Back in 2016 there was a slight dip in the number of crowdfunding deals causing speculation as to whether crowdfunding was plateauing as a route to investment. However, according to recent research from Beauhurst, the sector has "bounced back" in 2017 – particularly in the final quarter of 2017.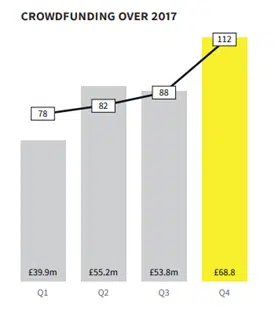 Looking at the investment sector as a whole, in terms of the number of deals done, crowdfunding remains a strong source of funding in UK. Indeed, crowdfunding offers one of the strongest routes to funding, second only to Venture Capital/Private Equity funding based on the number of deals funded. Crowdfunding accounts for more completed funding rounds than those funded by business angels, although business angel investment remains stable. It seems crowdfunding is here to stay and, as Beauhurst point out, "diversity of investment sources means startups have a better chance of finding a partner that suits their needs."
Crowdfunding is raising larger investment rounds than before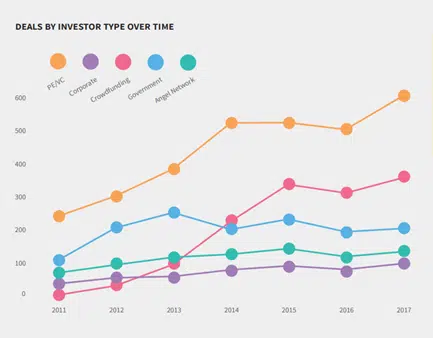 Crowdfunding is moving its focus onto larger deals and the number of crowdfunding deals under £499,000 is beginning to decline. This is in contract to angel investment which remains relatively stable at both a higher and lower level.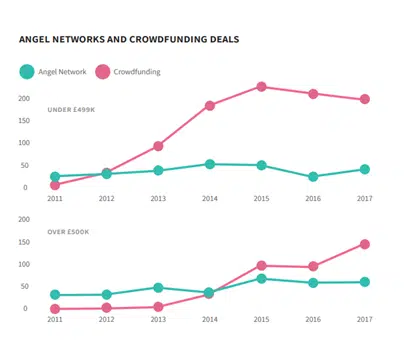 Different crowdfunding platforms are adopting different approaches
As the equity crowdfunding market matures distinctions are becoming clearer in terms of approach. Crowdcube and Seedrs are working to a volume model and encourage a broad mix of investors. Syndicate Room and Venture Founders, on the other hand, seem focused on doing few deals but with a higher average amount invested. Both Syndicate Room and Venture Founders attract a particular type of investor – mainly High Net Worth (HNW)or sophisticated investor who, arguably, have the ability to invest more.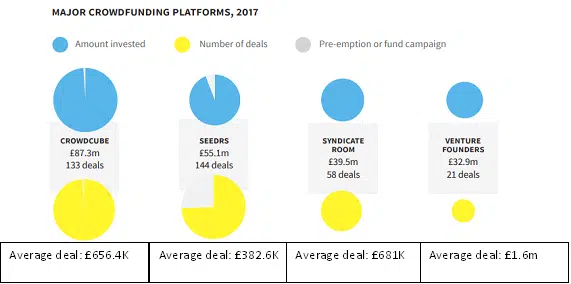 New players entering the market
This month (March 2018), OurCrowd, a global equity crowdfunding platform have announced they are opening an office in the UK. Their approach is similar to that of Syndicate Room and Venture Founders and focuses on attracting HNW and sophisticated investors.
What are the implications for startups, business owners and founders?
Crowdfunding remains a strong route to funding but it does take hard work and a lot of preparation behind the scenes to run a successful crowdfunding campaign. As the crowdfunding platforms focus their efforts on larger deals, businesses looking to raise relatively small amounts of seed investment (less than £250,000) may find they receive less help and support on a one-to-one basis from their chosen crowdfunding platform. Businesses are advised to look to alternative, independent programmes and advisors to gain this support instead. There are a number of such programmes. Good ones include Crowdfunding Accelerator, TribeFirst and IdeaSquares.
Angel investment remains an important plank in any seed investment round – for two reasons. Angels are still actively investing in smaller rounds, as the Beauhurst data shows, but also a lead angel investor can provide access to crowdfunding platforms like Syndicate Room who won't accept any business unless they have secured a lead investor.
***********
Is your Startup ready for investment?
Take the Startup Investment Scorecard to discover if your Startup is ready for investment. Start here