Funding Accelerator mentor, Tracey Rob Perera, shares 3 things angel investors look for in your startup valuation.
Tracey Rob Perera is not only a mentor on Funding Accelerator but she is also an angel investor. She also conducts due diligence for a number of angel networks. You could say she's had a lot of practical experience negotiating startup valuation!
When asked how she approaches startup valuation, Tracey shared three things she focuses. Some of these might surprise you!
First Tracey talked about the importance of valuation being grounded in reality. How this is assessed might not be what you'd expect.
There was discussion about traction (obviously!), but Tracey's focus is also on how quickly you cand get to revenue (or get more revenue if you already had paying customers). Startup valuation is being assessed based on your sales cycle. Does it take months to acquire a customer (as can be the case with B2B) or is it relatively short (as B2C can be)? How many potential customers do you have in your pipeline? How long would it take to convert them? With what degree of certainty? 
The focus is on sales because that is what delivers revenue, and revenue gives you more time to achieve milestones in your business. Put simply, focus on sales buys you time before you need to raise investment. Most importantly, from an investors perspective, revenue (and evidence you have a proven sales process) enhances the value of your startup so your share price will also increase.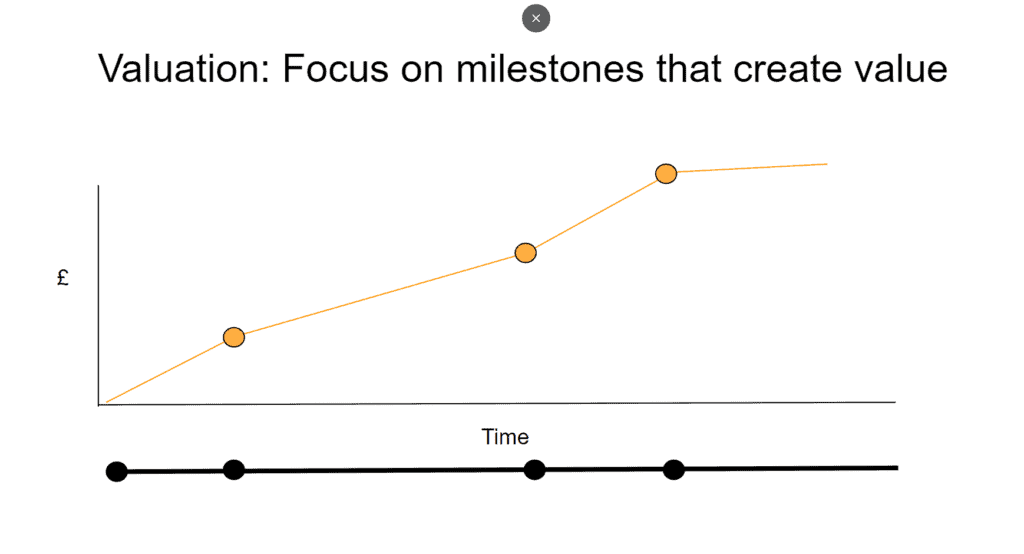 The second point Tracey focuses on may also surprise you. Investors want to know your startup valuation leaves enough "skin in the game" for the founder(s). "Skin in the game" is another way of ensuring founders are motivated, by ensuring they still own a large proportion of the shares after the funding round. 
Why does this matter? You will, most likely, need more investment and, at each funding round, everyone gets "diluted" (the decrease in share ownership as more shares are issued). Planning share ownership over several founding rounds gives a much better picture of whether a founder will remain motivated over time.
So, contrary to the funding myth, investors don't want all the shares in your business. They want a fair distribution that rewards and motivates everyone.
And Tracey's third point on valuation? It's be clear on how much money you need to raise now – and in the future. We'll be talking about that this in more detail in the next Funding Strategy Workshop. It's free, online and gives you the chance to ask any question you have about raising investment, as well as hearing insights about startup valuation. Reserve your place here.