While I've written before about the benefits of joining startup Accelerators (find out more here), now seems like the perfect time to revisit the conversation. Why? Well, new data from Beauhurst's report on Top Accelerator Programmes for UK Businesses & Entrepreneurs shows that 40% of UK companies who have attended an accelerator have raised equity investment. So, the big question is, if you're not thinking about joining an accelerator, why not?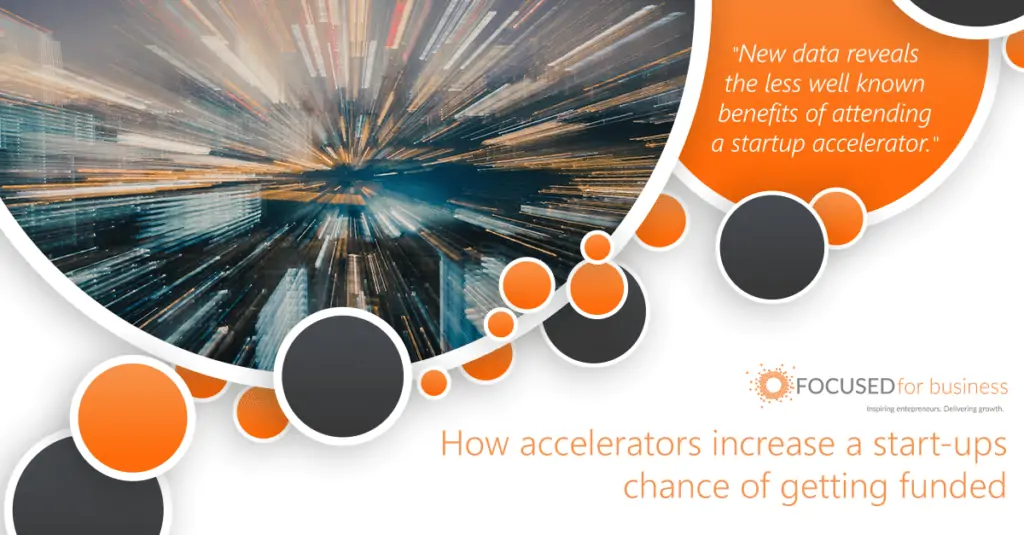 The British Business Bank recommends Accelerators because, primarily, the programmes provide vital access to potential investment, possible exposure to investors and often the use of co-working spaces which can improve networking. But they're keen to stress there are lots of other benefits to startup accelerators too – including support from mentors, other programme participants and the Accelerator's wider network.
Startup accelerators also offer participants the opportunity to develop their skills over an intense, short, period of time working alongside businesses at a similar stage of development, under the guidance of experienced business professionals. This crams a lot of learning into a relatively short space of time and gives access to ideas and opportunities that could otherwise take years to acquire.
At Focused for Business we've seen even better results with startup accelerators than the Beauhurst statistics, with 50% of the 67 participants in our Funding Accelerator programme (as of July 2022) having raised equity investment.
I could tell you all the reasons why you should take part, but I know that it's more helpful to hear it from people who have seen the success it can bring. So, recent participants of our Funding Accelerator have shared their thoughts about the benefits it had for them…
Kim Page, founder of Isos Connect, says: "Funding Accelerator was fast-paced and there was just so much to be gained. I liked the sense of accountability it created, as there is no wiggle room – you've got to make a commitment and get it done and if you do the results unfold in front of you."
Jeroo Doodhmal, founder of Pip and Henry, found the input of expert mentors very helpful: "The mentors were really generous with their time, expertise and knowledge. I'm still in touch with a lot of them now. I spent a lot of time with the mentor who helped with my financial forecast and wholesale strategy, helping me identify which retailers I should reach out to, and which documents I needed so there's been a lot of support both during and after the programme. Hearing other people's stories was also really helpful and as an entrepreneur you realise, you're not out there alone."
Amber Probyn, who co-founder Pequal with Hazel McShane, also loved having the support of a peer group: "Working within a small group and learning from each other was so helpful. As a start-up founder you don't really have many people you can relate to, so being part of a community was useful."
Of course, what all founders really want to do is raise money, and having access to early funding is key. Pip and Henry is a great example of this in action. After Sprint One of Funding Accelerator, Jeroo had everything she needed to approach investors including a detailed pitch deck, financial forecast and valuation. She used the knowledge gained from Funding Accelerator to apply to Capital Pilot, the Startup Investability Rating Agency, and was eligible for a £50,000 investment from the Boost Fund. (Side note: 70% of founders who have been through Funding Accelerator have successfully applied for the Boost Fund!).
The initial funding will make a big difference to the company's future. As Jeroo says: "It means we have capital that can be deployed quickly. We have to pay in advance for stock and it's quite a heavy cash flow dependent business, so this has been really useful in putting our plans into action."
Beyond investment, there are additional benefits to startup accelerators that the British Business Bank and Beauhurst don't mention, but which founders really value. I've summarised this as three key points, below:
1) Templates that speed up the 'doing'
Amber Probyn, co-founder of Pequal with Hazel McShane, explained how they found the templates provided on Funding Accelerator really helpful:
"Neither of us had created a financial spreadsheet before and that was becoming quite stressful and a barrier to progression. Funding Accelerator guided us through this process, and it really unlocked some of the conversations we were already having with investors. The forecast section of the programme was pivotal in helping us attract investment. One investor told us the forecast we developed whilst on Funding Accelerator was the most detailed and thought-through forecast they had ever seen. They became our biggest investor because the forecast impressed them so much. And because we compiled the forecast, rather than getting someone to do it for us, we could handle the questions and due diligence."
2) Access to data and tools which provide much needed data
Kim Page, founder of Isos Connect, says of the access to tools that make everything much easier: "Funding Accelerator equips you with access to databases and tools to find the individuals that have invested in your sector, how much, when and where. That is so useful for a founder looking for investment as you can start to analyse that data, figure out who to target and start networking with investors."
3) Startup accelerators build your overall confidence
Perhaps the best outcome is the boost in confidence. As Amber Probyn, co-founder of Pequal, puts it: "Completing Funding Accelerator has given me the confidence to bet on myself more, we're now in a position where we can start investing in the business, building a team and making a profit."
You've heard about the success that can be had from startup accelerators – direct from the horse's mouth – so what are you waiting for?
If you are thinking of joining one of the 180 accelerator programmes currently operating in the UK, both Beauhurst and the British Business Bank encourage you to pick an Accelerator carefully. We recommend you ask yourself the following questions first:
What do I want to focus on? Some startup accelerators focus on getting your business off the ground whilst others are focused on specific activities like raising investment or scaling for growth. Think about what your primary need is and make sure the accelerator is geared to help you meet that goal.
Is the accelerator community a good fit for me? Align yourself with startup accelerators that attract founders who are at a similar stage to you, think about the age and experience of the founders on the programme. Are you likely to be able to learn from and empathise with each other?
What is the programme's success history? Ask about the track record of the startup accelerators programme – you want to make sure you pick a programme that delivers results for its cohort!
Finally – good luck!!!
Is your startup ready for equity investment?
Find out how attractive your business is to investors by answering 20 quick questions