The number of accelerators has grown rapidly in recent years in the wake of big success stories from startups that have attended acceleartors – including AirBnB, Dropbox and Stripe. Crunchbasenow lists 534 Accelerator programmes in Europe alone. Is an accelerator your fast track to success? To get to the answer, I interviewed startup founders who have attended accelerators – and programme managers and mentors on accelerator programmes. They generously shares their views so you can make the right decision for your business.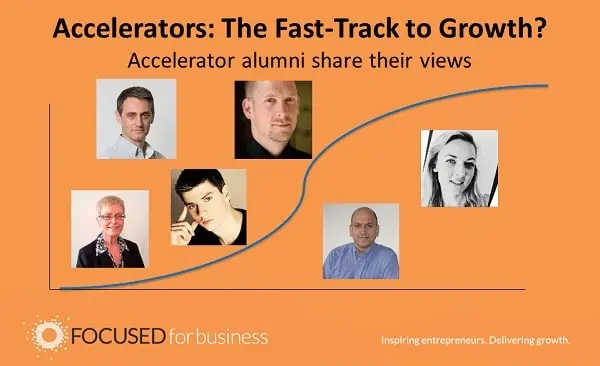 The term "accelerator" was originally applied to a programme designed to bring together a cohort of startups focused on developing their business over a fixed time period (usually 3 to 4 months) with an aim of raising investment. Such an accelerator offered a range of benefits from a structured business education, mentorship, networking and introductions, usually culminating with a pitch day (often called Demo Day).
Over time, accelerators have morphed to cover a wide range of programmes encompassing the traditional model but also including bootcamps and co-working arrangements with access to special events and mentors.
As Jodie Hughes, Entrepreneur Development Manager on NatWest'saccelerator, points out
"It's really important to first define what an accelerator is because they come in lots of guises. An accelerator is defined as something that helps a person or thing develop more quickly. Some accelerators offer desk space, workshops, educational events and networking, some offer coaching, mentors, partners, a community, networks and much more. Any business, can benefit from an accelerator but they need to pick the right one for them at the right time in their journey."
The benefits of an accelerator programme
The traditional accelerator model can provide startups with vital seed investment (perhaps up to £150,000) at start of programme, giving them some initial run way to focus on their minimum viable product (MVP).
Adam Beveridge, Co-founder and CEO at Hollabox has attended two acceleators including Just Eat Ventures, agrees
"The programme granted access to various fundraising schemes and companies. It meant we achieved our fundraising targets."
Brian Smith CEO and Founder of DebtCase Ltd who attended Ignite's accelerator, points out
"The initial investment was a great help to allow us to focus on our start-up, without the need to keep contracting on the side, but of course that amount wasn't going to last for long."
All of the founders I interviewed agreed that a key benefit of an accelerator was the network you gained access to in terms of mentors, former alumni, partners or investors– and the introductions that stemmed from these
Csaba Toth Founder of ICQ Global who attended NatWest's accelerator stressed that a key reason he joined an accelerator was for
"Guidance and introduction to mentors, as well as, potential business partners and clients"
And Brian Smith agreed
"By the end of the programme we wanted to have met with a lot of potentiali nvestors and be in a much better position to raise more funds"
Sue Frost, Co-Founder and CEO at Curamicus who attended Creative England's First Bourne accelerator went further
"We were most attracted by the mentorship – even though we'd run businesses before. We were returning to the UK after working abroad and wanted to hear a widerange of views about how to achieve our plans in the UK."
Adam Beveridge added
"I'd say the connections could be made yourself, but having warm intros and even better, having these connections made in a structured environment saves a lot of leg work and increases the likelihood of you being seen by the people you want to get in front of."
Everyone I interviewed spoke about the positive benefits and energy that comes from focusing on your business for a fixed period of time. Sue Frost described the intensity of the accelerator experience and felt the stimulation and focus that derives from this was palpable and powerful.
Brian Smith added
"The intensity of all being in one place, with direct access to the team and building up relationships with investors, purely because you'd see them more often, obviously works."
Sue Frost also found that the structured input, guidance, informal discussions and feedback from mentors was another key benefit. She noted that the tools and techniques introducedon the accelerator were very helpful in structuring a strategy for her startup.
Brian Smith also highlighted the importance of pitching and getting feedback
"I've run businesses in the past but never a 'start-up' so taking on investment, having monthly meetings with advisors, having to stand up and pitch in front of a room full of people, etc, was all an amazing experience… if a little scary."
Being on an accelerator brings PR opportunities and can help build brand recognition. Depending on the calibre of the accelerator this can set you apart from other startups – and give you unrivalled access to mentors and investor.
Csaba Toth spoke of being accepted onto an accelerator as
"a confidence booster and confirmation that I was on the right path."
Brian Smith goes further
"Some of the mentors we spoke to you couldn't pay to get access to, so that alone was worth it."
Adam Beveridge says
"I'd certainly say that the credibility factor meant we found fundraising much easier."
He goes on to say
"The greatest outcome was exposure. Making the most of every introduction, and taking part in numerous pitching and showcasing opportunities that otherwise wouldn't have been available to us."
Jodie Hughes explains that attending an acceleratoris about changing mindsets. She believes that if can often be the entrepreneur that holds back a business.
"We constantly get entrepreneurs to tap into their mindset to make sure they are continually developing and changing so they don't hold their business back."
Are there any disadvantages to accelerator programmes?
Depending on the flexibility of your personal circumstance – and your family commitment in particular – one downside of anaccelerator programme can be the need to relocate. Not all accelerators do require you to move but often there willbe an expectation that you will attend classes and events in a particular geographic location – although more non-geography specific options are beginning to emerge.
Close scrutiny of the costs that can be involved with accelerators,particular if the accelerator takes equity as part of the programme, is also advisable.
Aristos Peters founder of D-Risk It, offering data led investment tools for startups, accelerators and investors, who has been a mentor on a number of accelerator programmes (including CollectiveGlobal Accelerator, Microsoft Ventures, Oxygen and Entrepreneurial Spark) urges founders to be very clear about the costs involved in participating in accelerators that offer cash in exchange for equity.
"The equity stake taken can really vary and there can be "hidden costs" in terms of fees that need to be paid to meet accounting and reporting requirements."
Brian Smith recognises this too
"If you are thinking of joining an accelerator I'd shop around, as the equity versus investment ranges considerably…then there will be programme charges on top, so check the small print before accepting any offer."
Perhaps perversely given the majority of founders joined accelerators in order to meet people, one disadvantage that emerged frommy interviews is that there are so many different people giving feedback onyour business (in mentoring session, at pitch days and in informal conversations) that too many alternative viewpoints can lead to confusion and indecision.
There was also mention of all the events, classes and mentor sessions providing conflicts of time – most founders recognised there was a point when they had to tak edecisions and focus on building their business and that the constant round of events and meeting could begin to feel like a distraction.
All the founders I interviewed also recognised and felt a degree of pressure that comes from the competitive climax of Pitch/Demo Day and the desire to want to demonstrate tangible progress by this point. But then, running a startup is never stress-free!
Csaba Toth was frank
"What you put in you get back. You need to make the most of an accelerator experience to get the most from it and that takes time. I wish I had put more energy into getting more involved besides focusing on my business. I could have put more effort into networking."
Brian Smith relates to this to
"We should have been more proactive during the programme and really asked and hustled"
And what did the founders find most beneficial?
Ultimately, when reflecting on their accelerator experience, all the founders I interviewed agreed they would do an accelerator again. They all agreed on the greatest benefit too:
Sue Frost stressed
"It's the people that really make it. Meeting and exchanging ideas with other entrepreneurs is stimulating and powerful"
Brian Smith was quick to agree
"First and foremost it's the cohort of founders we went through the accelerator with. Being able to support each other, bounce ideas, share knowledge and experience was invaluable. We've made some lifetime friends. The other benefit was the credits and free access to various online platforms, such AWS and Stripe, which cut down on our overheads and helped to extend our runway. Every little helps"
The one caveat?
Be clear on your objective in doing an accelerator and do your research to be sure you pick the right programme for you. That way, you can be sure you'll get what you need.
***********
Is your Startup ready for investment?
Take the Startup Investment Scorecard to discover if your Startup is ready for investment. Start here
Further reading
Want to raise equity investment? Is your business ready?
What is the best way to fund your my business?
When is the right time to raise investment for your startup?