Funding Accelerator expert mentor Chris Booth of Findrs explains how to expand your startup team (and extend your headcount budget) by using AI.
When it comes to attracting investors, there's no doubt that team matters. But where do you put your focus to expand your startup team?
It is people who get things done and investors will always scrutinize and back strong teams – especially in the early days when you may not have secured other important assets such as IP protection, market fit, a proven marketing machine and recurring revenue. Your team maybe the key asset that attracts investment.
But teams cost money and when cash is tight you may not have the runway to build or expand your startup team until you get investment. So how do you deliver in the meantime?
We asked Chris Booth of Findrs, who is one of over 50 expert mentors who support the Funding Accelerator programme. Chris is a smart guy. We always like hearing what he has to say. He specialises in helping startups grow their teams, and he really understands the challenges of budget, finding the right people and supporting people to give of their best.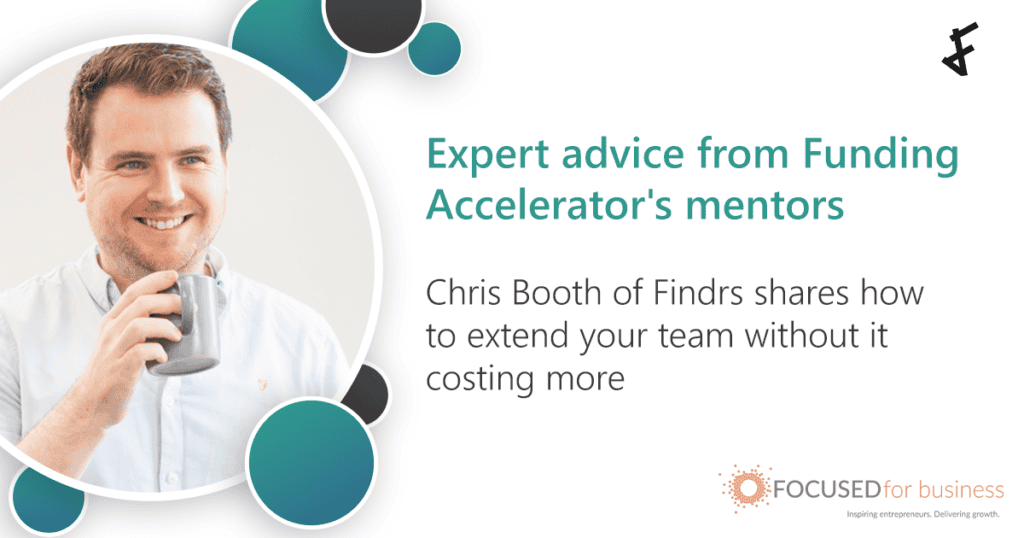 Should you expand your startup team?
It may surprise you to hear that, despite being a recruitment and growth specialist, Chris doesn't necessarily advocate recruitment! There is a time to hire but it isn't always the starting point. Chris shared how startups can use AI to get the most out of your existing team, making your headcount budget go further. AI can, effectively, expand your startup team. For this to work you do need to have the "right people on the bus" (c.f. Jim Collins in Good to Great) so that team members are empowered to make the right decisions.
Instead, Chris offers three very practical suggestions for using AI to expand your startup team. Used wisely, AI can improve the skills of your team, reveal ways to do more with less and improve effectiveness.
Improving skills
In an ideal world, we'd all have staff training and development budgets that enable our teams to fulfil their continuing professional development needs but, in the current economic climate, perhaps your training and development budget is feeling a bit strained? Conversational AI can support teams in building their own knowledge in support of specific tasks. If you haven't already tried it, test this out for yourself by asking Chat GPT to explain the key drivers of a market you want to enter, or to give you a grounding in a specialist topic or to show you "how to" complete a functional task. Chris himself has used AI to help him write code, even as a non-techie.
Do more with less
Are you asking your team to do more with less? If this pressure is sustained for too long it can lead to burnout in your teams – and reduced effectiveness. Encouraging your teams to use AI tools to automate routine or manual tasks can free them up to focus on more productive – and fulfilling – activities, countering burnout. For example, if you are pushing sales teams to deliver more leads, automatic outreach tools, such as outreach.io and Meet Alfred, can act like an extra pair of hands, delivering leads but letting your sales team focus on conversion rather than outreach. Similarly Exceed.ai may help your customer service team support more customers. Clearly these tools need to be used carefully – no one likes being spammed or to think they are talking to a "bot" – so use judiciously!
Improve effectiveness
It's not just about saving time/money. AI also helps you become more effective. Got to write a blog or deliver a PR article but suddenly you've got writer's block? Why not use Chat GPT or Bard to get you started. Has your CRM open rate dropped and you need to improve your email subject lines? Do you feel you are not using the right language, tone or case studies in your sales conversations and this is impacting your sales conversion? Perhaps copy.ai can get you back on track.
The right set of tools, used appropriately, can help you get further with your existing resources, delaying the need to build headcount and extending runway. AI can, effectively, expand your startup team. In a challenging funding environment this might just buy you the time you need to build a bit more traction.
If you'd like to hear more of Chris' imaginative ways of building powerful teams do reach out to him on LinkedIn.
If you want to re-invigorate your funding efforts, – or to hear more about Funding Accelerator and the mentors who support the programme – do join a Funding Strategy Workshop.