Over the last few months, start-up founders and small business owners across the UK have been voting for the best and brightest business advisers.
Never before has the role of an adviser been so important. The last few years have been some of the most challenging in history for start-ups and small businesses. But thanks to the work done by the amazing individuals recognised by these awards, many startups and small businesses have been able to weather the storm – and even raise investment to grow their businesses.
Enterprise Nation, who exist to support start-ups and small businesses find trusted business support, crowned the best of the best business advisers across 10 categories.
Hatty Fawcett, start-up funding adviser and founder of Focused For Business, was awarded Adviser of the Year 2022 in the Finance and Funding category, against strong competition. Hatty works with start-ups and small business owners to give them the clarity, connections and confidence to attract (and choose) the right investors for their business – and has helped raise over £7 million for her clients over the last 12 months.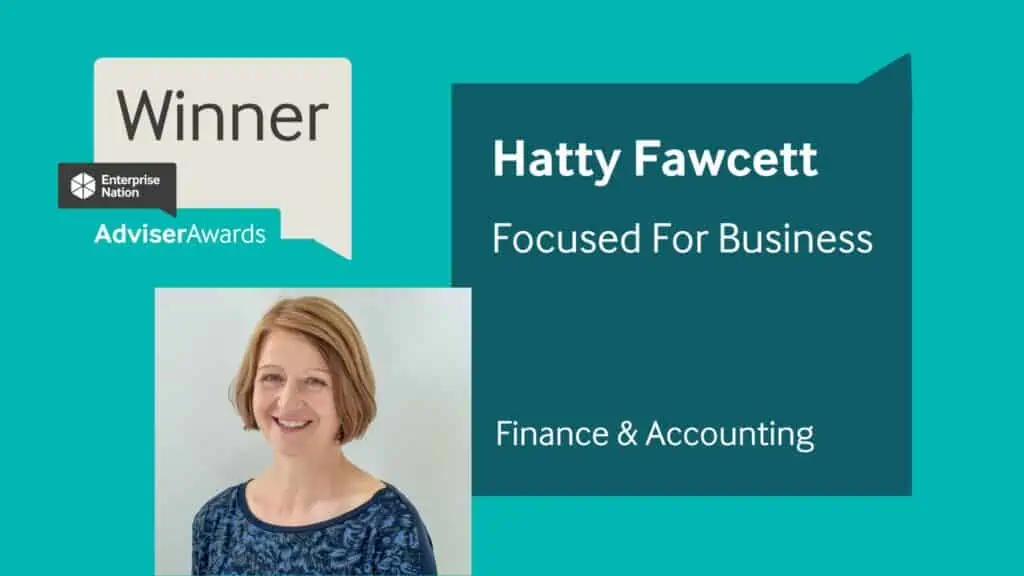 One start-up that worked with Hatty commented
"Hatty has been a guiding light in helping us prepare our investment pack. Not only is her knowledge and advice excellent, she has an amazing network of experts to tap into too."
Another start-up founder said
"Before meeting Hatty I didn't understand my business potential – or my financials. Now I do!"
Start-up Funding for all
Commenting on the award, Hatty said
"I'm really chuffed and very humbled to have won this award. I love what I do. Seeing the difference start-up funding makes to all the hard working, vision-led founders who want to make a difference in the world – and who often don't think they can access funding – is reward enough for me."
"I want to level the playing field when it comes to raising equity investment. There is so much that gets in the way. When you look at how little investment goes to female start-up founders or to founders from ethnically diverse backgrounds it is shocking. The statistics for investment in businesses based outside of London and the South-East do not make for happy reading either.
For many start-up founders, raising start-up funding looks scary, complicated, full of jargon and just plain 'hard'. It can feel like something that is only open to you if have a wealthy network or you if you are brave enough to pitch on Dragon's Den. I'm doing my bit to demystify the "game of smoke and mirrors", to de-bunk the jargon that gets used and to provide a clear roadmap for running a successful equity funding round. I want all start-up founders – especially those raising equity investment for the first or second time – to realise that it is possible to raise investment to grow their start-up."
Asked where someone thinking of raising start-up funding should start, Hatty recommended taking the Startup Investment Scorecard – 20 short questions that generate a personalised report that shows how investable a business is and where to focus in order to raise investment.