So you think you need to raise funding for your startup? You may be right, but before you being to raise startup funding from friends and family, take a moment to assess whether your startup is ready for investment. It is so much easier to raise investment when you have traction.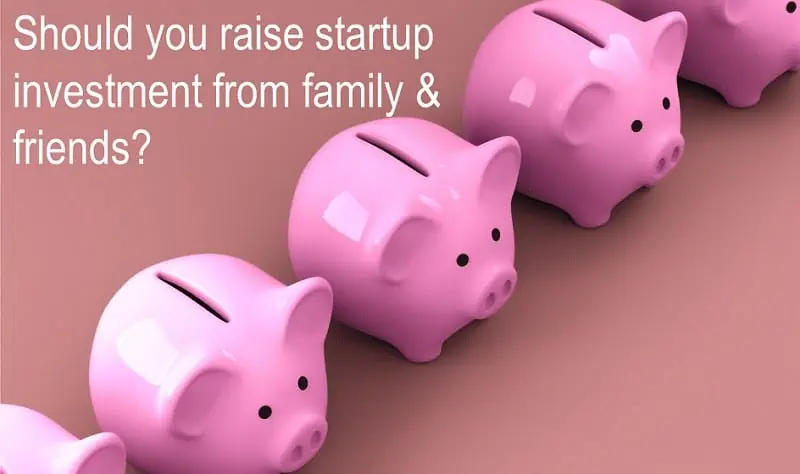 There comes a point when all startups need investment. As Founders, we do what it takes to build our startups, to make our vision a reality. We use our savings, we load up the credit card and we bootstrap to fund our startups but if this isn't enough to get the business to "traction" (the point at which professional investors get involved), the next best option may be to raise startup funding from family and friends.
Startup investment is very likely to come from people you know
There is a lot of anecdotal evidence that a startup's first funding round will come, predominately, from people known to the business. So speaking to friends and family isn't a bad idea in itself. People who know you, your skills, strengths and experience, are more likely to believe you can take your startup to the next stage. They know your abilities. They trust you. They are, in effect, backing you.
But, should you do it? Should you raise startup funding from friends and family? Should you take money from your nearest and dearest when there is, inevitably, risk involved. If things don't go to plan with your startup, will you regret mixing business and personal relationships?
What does it mean to raise startup funding from friends and family?
Before we explore the emotions that arise when you raise startup funding from friends and family, let's consider the different forms this type of funding might take. Friends and family funding could be:
a gift – with no expectation that the money will be paid back
a loan – perhaps with low or no interest and a long loan period
a commercial arrangement where you offer shares (equity) in your startup in exchange for the cash.
All of these options could give you the cash injection your startup needs but, with the possible exception of money offered as a gift, the money comes with expectations – some of which may be explicit, but not all!
Relationships with friends and family run deep. When you raise startup funding from friends and family the people who back you trust you – with their hard earned cash. Depending on their education, career and financial situation they may not realise the risk they are taking. The implications can be far-reaching.
I know one founder whose father invested in his startup and – when that business failed – the father lost all the money he had invested. As a result father and son didn't talk for years. Worse still, the father almost refused to attend his son's wedding. A betrayal of trust isn't easily forgotten so proceed with caution when raising startup funding from friends and family!
Be clear about the risks
Approach any conversation with friends and family with frankness and honesty. Nine out of ten businesses fail in the first two years of trading. Running a business is challenging and influenced by some factors beyond the Founders control. Make sure anyone making an investment in your startup realises this. Business Angel investors know the risks and are usually in a position to spread their risk across a number of investments. Your friends and family may not be in a position to do this. They may only be backing your startup.
Explain this is a long term investment
There is no quick return on an investment in a startup either. Indeed, if you raise startup funding from friends and family, they are unlikely to see any of that money back for a good few years. Startups don't pay dividends. Early investors, and this includes friends and family, don't get their money back until there is an "exit". That generally means until the startup has grown to such an extent that another business (or other investors) want to buy the business. It takes time (between 5-10years generally) to get to an "exit". Can your friends and family wait that long for their money back?
Consider the impact of future raises – and don't over-value today
Then there is the issue of valuation. Valuing any early-stage business is complex but valuing a fledgling startup is very difficult. It is often difficult to know where you start. There is also a risk. If you get the valuation wrong you could end up selling too much of your business at too early a stage. This can then hamper your ability to raise further rounds. As new investors come on board, the Founder and other shareholders become "diluted". Depending what proportion of shares were sold originally, you may find you no longer own enough of the company to take on new investors and maintain control of the business.
To raise startup funding from family and friends can be a good route
Nevertheless, raising startup funding from friends and family can still be a good option – and may be your only option. But, if you want to stay friends, full transparency and honesty are essential. You have to be responsible about what people are getting involved in. Be open about the risks.
You can enthuse about the opportunity – but you must also level with everyone about the risk. The decision to invest is then theirs to take, or not. It gives your friends and family the opportunity to choose whether or not to invest and at a level that hopefully won't sour your relationship if things don't go to plan. It moves the transaction onto a business footing.
Being honest in this way creates space for personal choice, without any feeling of pressure that family and friends might feel to support you at all costs. As the Founder, you must also be willing to accept any answer with good grace, especially if that answer is a "no".
If you can do that without ranker or grudge it gives you freedom. Freedom to ask almost anyone to consider an investment in your business. And that opens a world of potential investors to you.
******************************************************
Is your Startup ready for investment?
Take the Startup Investment Scorecard to discover if your Startup is ready for investment. Start here
Further reading
How to find investors for a startup – quickly!
Discover what helped Twist Teas find investors for their startup