One of the fundamental questions at the front of most founders' minds – and the most frequently asked question – is "What's the best way to fund my business?" As part of Global Entrepreneur Week, Hatty Fawcett of Focused For Business asked ten founders who have raised investment for their businesses to share the pros and cons of different funding options.
A quick question to ask, but a complex question to answer. And, of course, it depends: On the stage of your business; your objectives for the business; your reasons for seeking investment; and the speed at which you require it. It will also depend on what you are willing to offer in exchange for investment. Will you sell shares in your business, for example, or are you looking for a loan which will eventually be paid back?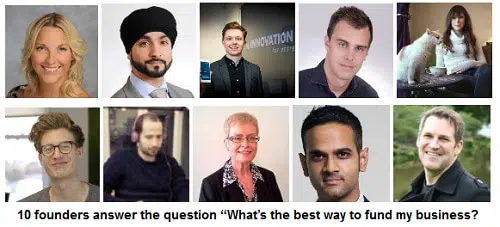 Bootstrapping – a good way to get the business off the ground
Bootstrapping your business usually means funding your business with your own money to get if off the ground, and then continuing to fund it with revenue generated by the business itself. When I started my first business, I wasted a lot of time talking to potential investors explaining why they should back my business. At the time, "the business" was little more than a well-crafted business plan and financial forecast. I remember the moment when the "penny dropped" and I realised no one was going to invest in my business until I had actually created it and it was earning some revenue. That meant investing my own savings to get things moving. I had to put my money where my mouth was.
A big advantage of starting your business in this way is that you are in control of the business. It puts you firmly in the driving seat. When it comes to the direction you want the company to take, the key decisions are down to you.
Tim Martin, CEO of WorkInConfidence, who bootstrapped his business puts it very succinctly
"You do it because you have to. It means you can build value before funding and get it [the business] going."
Always assuming you have some money you can invest, there are some disadvantages to this route. Tim found
"You are often unable to make key decisions, such as spending more on marketing."
So is bootstrapping the best way to fund your business? Be aware that a lack of money can slow down the speed at which your business grows.
Bank loan or Start-up Loan – a helpful cash injection to achieve an important milestone
Even a bootstrapped business will probably find there comes a point when you need a cash injection to achieve an important milestone. It might be that you need money to pay for tooling for product manufacture, or you need to purchase materials or premises in order to start generating revenue. If so, might start-up loans and bank loans be the best way to fund your business?
Jaya da Costa, Founder of Pause Cat Café, saw a number of benefits in going for a start-up loan.
"It gave me the opportunity to maintain my own vision for my business and was a quicker option. I was asked to complete a business plan to gain funding, which has been very useful during the set-up and also since opening."
One drawback of this route is that you will have to pay interest on the loan which, as Jaya highlights
"The repayments can take a big chunk of your cash flow especially in the early stages of your business, try to negotiate an interest-only period to help with this."
Angel investment – investors bring not just their cash but their skills, experience and contacts too
Business angels (high net worth individuals who have very often run and sold their own businesses) do not expect an immediate return on their investment. They don't ask for interest or dividends but want to see any revenue generated by the business put back into the business so it can grow faster. What is more, business angels bring not just their cash when they invest in your business, but also their skills, expertise and contacts too. They may also have useful sector knowledge which can help you grow the business faster than the cash injection alone would suppose. They often act as mentors and can provide practical help and hands-on support. Could business angels be the best way to fund your business?
Sue Frost, Co-Founder & CEO of Curamicus, discovered many benefits of this investment route
"We were fortunate to find business angels with a wealth of business experience in particular areas who were willing to share with us for the benefit of the business. The best business angels can become key people in your startup team."
Jason Lowe, Founder & Director of FYB London, echoed this
"As well as the capital investment, the most valuable advantage [of accepting business angel investment] is having an experienced business mentor to work with. They help you avoid common potholes and provide an outside view on long term strategy for scaling the business."
One of the challenges of raising investment from business angels, as Sue points out, is the time it takes:
"This route to funding can be very time consuming as [business angel] groups meet probably only once per month/quarter and they only see a handful of startup pitches per meeting. We found angels within these groups can be looking for specific kinds of businesses such as entertainment apps or traditional retail businesses [and this may not coincide with your business sector]"
Jason also pointed out that with business angel investment, although you benefit from mentoring and practical advice, you are also relinquishing some control in your business. As he put it,
"You may have to compromise on some of your ideas and plans to attract investment."
It's important therefore to find a business angel with whom you are aligned in terms of the strategic direction of the business. It also helps if you build good rapport, openness and trust.
Angels may be more patient than banks in getting a return on their investment but they will expect a return so you do need to offer a clear "exit". Typically, this will involve selling the business in a 3-5 year time frame so that the business angels can sell their shares at a profit.
Crowdfunding – a good way to raise funds but also to test product demand and build brand ambassadors
On the face of it, crowdfunding could be the best way to fund your business. The media is full of stories of businesses raising phenomenal amounts of money in remarkably short time periods. And crowdfunding brings other benefits too:
For Kellie Forbes, Co-Founder of YUU World, crowdfunding proved a brilliant way to market test a new product and boost sales
"[Crowdfunding provided] amazing feedback regarding the new product. That's been insightful. We know we have a desired product, but we now realise there is another way to deliver this – as an add-on option rather than a bespoke product. It was feedback by via the crowdfunding campaign that has caused us to re-think this decision. We have a better product as a result."
Peter Ramsey, Founder & CEO of Movem, has done crowdfunding twice and he agrees there are benefits to crowdfunding above and beyond the money raised
"Crowdfunding gives you a lot of exposure…I know that our shareholders talk about Movem all the time, so there's an unknown amount of network effect going on there. But that's the biggest benefit, the exposure."
Kellie Forbes also sees PR and marketing exposure as a big upside to crowdfunding
"Our sales are up almost 20% which is thanks to the crowdfunding campaign exposure."
Crowdfunding is not a quick route to investment.
There is a lot of work done behind the scenes to ensure a successful crowdfunding campaign. James Courtney, Founder & CEO of Lux Rewards, explained
"For early stage startups, it is very difficult to get viral spread like Monzo etc. managed to. Realistically you need to bring 50-80% of the raise through your own connections or angels."
Peter agreed
"Crowdfunding isn't as simple as just 'making a video'. Months of work go into a pitch, and even before then you have to be pre-raising and getting momentum. My advice would be to be realistic on the amount of money you need. Raising £500k might sound glamorous and you might be pleased that you've got 3 years of money in the bank, but it's considerably harder. Only raise as much as you need."
Venture Capital – the holy grail of raising investment?
For some founders and entrepreneurs, venture capital (VC) investment feels like the holy grail of raising investment. VCs typically manage a fund made up of other people's money. The funds can be large which means VCs are in a position to make big investments, and cash-starved founders may be tempted to see pound signs in front of their eyes. Perhaps this is the best way to fund your business?
VCs are also generally very well connected and, like business angels, they want to see the businesses they back succeed. Rajeeb Dey, CEO of Learnerbly, found he benefited from his VC's network by being introduced to one contact who became CTO and another contact with very specific skills whose advice helped them develop proper, scalable systems. As Raj put it
"I'd [recommend VCs for their] connections and expertise…as well as potential business development connections."
VCs are unsuitable for the majority of startups
As a general rule, VCs are looking for businesses which offer not just fast growth but exponential growth. They are often focused on particular sectors and industries, and have a preference for companies that disrupt the status quo, not just "me to" products. As a general rule they don't invest at "seed" stage but will wait until the business has proved the market and is ready to grow. For all these reasons, VC funding is not the best way to fund every business.
VCs manage other people's money, so they have to be ruthless in managing the investment. This drives a different agenda and a certain amount of governance and bureaucracy.Raj at Learnerbly put it this way
"The amount of governance increases – ie monthly board meetings in our case – I doubt it'd be so frequent had we just had business angel [investment]. That said, I'm actually finding these meetings useful…it's something to schedule, prepare for and ensure you are aware of the reporting/governance requirements VCs may have."
Harinder Sandhu, Founder of EmpowerRD wasn't comfortable with "overbearing beaurocracy" and loss of control. She described her situation,
"I hadn't appreciated the level of control the VCs would look to exert – they had a specific mould they were looking to shape each company into. I decided to execute a break-clause I'd baked into our contract to cut short the funding and therefore the VC's equity stake."
Thomas Beverley Co-Founder at Fy also felt uncomfortable with his situation
"The VC will typically be operating [on the basis that] ​'one-in-twenty of my investments are going to be huge; 5 [will provide] ok returns and 15 [businesses will be] write-offs mentality'. [As the founder] they obviously want you to be successful but they have 20 bets to your 1 so [motivations] aren't entirely aligned. Therefore, they might push you to do irrational things post investment."
The consensus with regards to Vc investment is, before you take the money, make sure your motivations and expectations are aligned. Taking references can be a good way of ensuring this
So, what is the best way to fund your business?
There is no one best option when it comes to funding your business. The best investment for your business will be the option that is right for your stage of business, your ambition for growth and what you are willing to offer to investors in return for their investment.
************
Is your Startup ready for investment?
Take the Startup Investment Scorecard to discover if your Startup is ready for investment. Start here
Further reading
Should you raise startup funding from friends and family?
Discover what was instrumental in helping PEEQUAl raise equity investment