When raising investment for your small business, you have to be ready to pitch at any moment. Anyone you meet could be an investor. It could be the person standing next to you on the bus, someone you meet at a networking event or party or even someone you play sport with in your spare time.
Depending on the circumstances you may not have long to pitch. In some cases you might only have a minute to get your business across (the classic "elevator pitch" scenario), whilst in a more formal pitch environment (such as at an angel network pitch evening) you might have 15 or 20 minutes. Certainly, you won't always have a Powerpoint presentation. You have to be ready for any eventuality.
So what should be in your business pitch?
A good place to start is with the business concept. What is it your business does? What problem are you solving for your customers? Even in a 20 minute pitch you don't have long (and there are other things you need to talk about in addition to your products and services) so keep your explanation short and to the point. Focus on the key points and what makes your product/service different. If you are talking about your product/service for more than 25% of the length of your pitch than you are probably going into too much detail.
Next up, talk about sales. What's your business model and how do you generate revenue? Investors love to hear that you have more than one revenue stream and that you have experimented with different routes to market and identified the most successful channels. Ideally you are looking to show that you've hit upon a selling formula that delivers predictable results and is ready to be scaled up.
Businesses don't make themselves. It is people who make businesses successful. You must introduce yourself and your team in your pitch. You'll want to talk about the team's background, skills and experience. Leave the investor in no doubt that you have the right mix of people to drive this business forward.
Your team should start to build your credibility in the eyes of an investor but you want to cement this by talking about your business achievements to date. Highlight any key milestones you have achieved: Key strategic partnerships you have formed, contracts you have won and revenues in the bank. Your pitch needs to demonstrate that you are already delivering results, even without the investment.
No pitch is complete without some numbers. If you are already revenue generating share what monies you have banked. Forecast future revenues (realistically – no one will believe "pie in the sky" numbers) and be clear about your margin and breakeven. Be specific about how the money you raise will be used, and provide revenue and profit predictions for the point at which you plan to exit the business. You must have an exit plan. Investors will want their money back at some point. Without an exit they don't get a return!
Finally, be clear about how much equity you are selling in return for the investment. An unrealistic valuation can ruin an otherwise brilliant pitch. For advice on valuing your business, download my e-book.
Given you need to be ready to pitch at the drop of a hat, and that you can't always rely on a Powerpoint presentation to help you remember everything you want to get across, you might find it helpful to have this little mnemonic in your mind to make sure you cover the main points. It's based around the middle letters of the alphabet: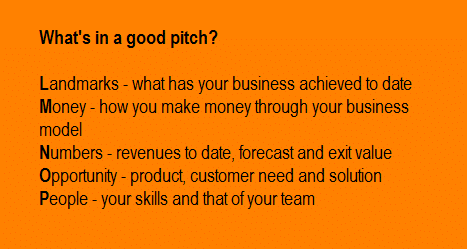 Oh, and one final thing, be sure to pitch with passion! If you're not excited by your business why should an investor get excited? Pitch with energy and enthusiasm and remember to smile and make eye contact.
Good luck!
*************
Is your Startup ready for investment?
Take the Startup Investment Scorecard to discover if your Startup is ready for investment. Start here
Further reading
Find out why "traction" makes it easier for a startup to raise investment
Funding Accelerator is designed to speed up the process of preparing your start-up for equity investment.