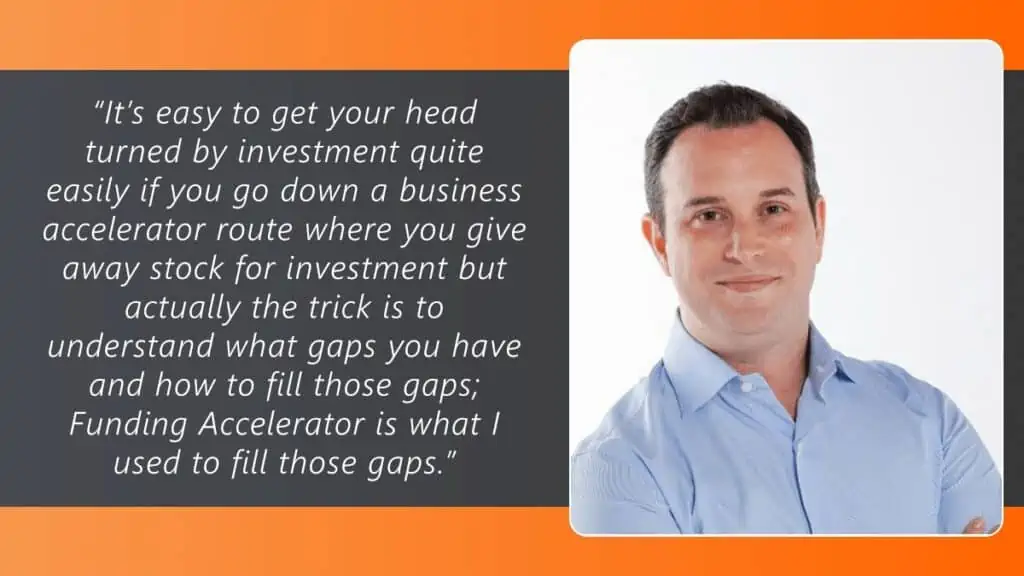 Barry Klipp had spent 17 years working in the airline industry so you might imagine how he felt when the covid pandemic grounded planes worldwide. The unexpected outcome of the industry shutting down was that Barry finally had the time to develop a business idea and plan for his tech startup that he'd put on hold for over 5 years.
Barry knew there were gaps in his plan but, as he saw it,
"The gaps we had weren't in marketing, commercial or technology but specifically around what was needed to raise investment."
Barry looked at lots of different accelerator programmes, but discounted them all because they wanted a relatively large share of the equity in his tech startup, Interlnkd, which he wasn't ready to give. Barry joined Funding Accelerator, a fee based programme that prepares early-stage startups for investment, introduces them to investors and supports them in closing a funding round, because it specifically focused on the areas where Barry required support. As he put it,
"The programme takes you through the actual paperwork and process that goes into raising investment – the one pagers, the pitch decks, the five-year financials and the valuation. I found the financial forecast guidance invaluable because no matter how well you pitch, it ultimately comes down to numbers."
Using the financial forecast template provided as part of Funding Accelerator, Barry started to look at his business in a different way.
"It opened up my mind to some of the areas I hadn't even considered, both from a company growth and anticipated cost perspective."
He also enjoyed the weekly cadence of the workshop sessions and the access to specialist mentors who provide guidance and additional support.
"The structure of the programme and the way it plays out is excellent because it gears you up to talk to investors and you're left feeling confident when out of your comfort zone."
Just two months after completing the programme, Barry has secured over £250,000 in investment and is poised to take the business to the next level.
"When I first went into the programme I felt a little bit out of my depth. As a corporate employee for 17 years, I was very much outside of my comfort zone but that feeling soon goes away once you get a bit of confidence under your belt. On completion of the programme I felt ready to engage investors!