In many ways, raising investment is a confidence game. Not only will investors want to get to know the founding team and the business plan so that they have confidence in your abilities, but investors will look for external validation too. They may hold back on committing to investing until they see that someone else believes in the idea sufficiently to invest in it. Once you have your first investor – or your cornerstone investment – it becomes easier to raise the remainder of the investment. But how do you find your first investor? It can feel like a catch 22 situation! Hatty Fawcett of Focused For Business asked four founders who have recently raised – or are in the process of raising – investment how they went about it.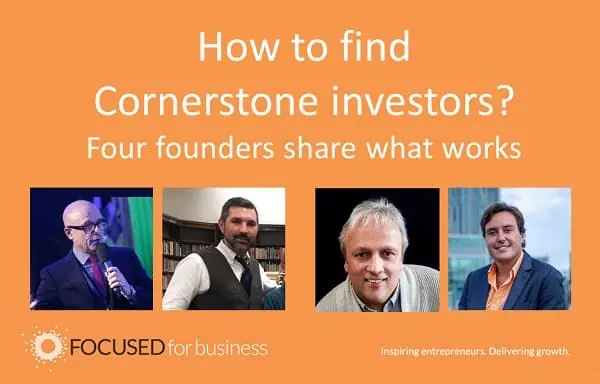 Where did you find your investors?
It can be a daunting task, wondering where you will find investors but these founders were full of practical suggestions.
Kevin Jackson, founder of Blueprints an investment platform for economic development projects, put it frankly
"All the years of experience and contacts have to be used. You have to go back to everyone. Everyone you've ever met – if they aren't investors they will know someone who is, get that introduction too."
Shon Alam, founder of Bidweg which offers a new way to exchange foreign currency, also left no stone unturned in his search for investment
"I tried all the standard stuff you would expect banks, business startup loans, family, private equity and crowdfunding."
Marco Scotti, founder of Figaroo which allows members to book and share VIP tables in the best nightclubs worldwide, talked more specifically about the channels he used to find investors
"I used LinkedIn, I approached personal connections and asked for introductions, I went on financial TV shows, got into the financial newspapers and spoke at lots of events."
All the founders agreed that LinkedIn was key, as were personal introductions. Ian Dibb, founder of Once I've Gone which ensures family members and guardians have access to vital documents, insurance policies and files once their loved ones have passed, put it like this
"A warm introduction really does make things easier, and will normally get you a phone call. It's then up to you to get a meeting with them."
How do you opening the conversation with investors?
Personal connections are useful not just in finding investors but in actually opening the conversation with them too. All the founders I interviewed had found key investors as a result of an introduction – Shon and Ian both found Chairman that way too.
Kevin stresses the importance of the phone in making first contact with investors, and he advises against relying on email.
"If you are passionate about your product, pick up the phone and do a good pitch. You will get there. It's all about people connecting with people!"
Once you've made initial contact you will need to supply supporting documentation. Marco recommends
"Be investment ready! That means having a performing deck, a clear "ask" and valuation and being ready to explain how you will use the funds you raise to achieve clear goals."
Shon agrees and suggests you also need a good dose of resilience
"You'll need all the usual stuff – business plan, video, meeting after meeting. Tugging your forelock and walking around with a permanent grin on your face, trying to sound intelligent and trying to get investors to understand the concept, what makes you different, etc. etc. etc. Investors balk at anything and everything!"
But whilst the process of talking to investor after investor can try the patience of a saint, Shon urges keeping the faith – you never know when you will have that magical conversation that changes everything. For Shon it was recruiting his chairman
"Our Chair has been great at helping to raise funds. I meet him in Costa Coffee and within 30 secs he said "Yep got it." – and we haven't looked back."
How to overcome barriers when talking to investors
There is no doubt that the constant conversations with investors can feel like hardwork. You will need self-belief, persistence and energy.
I asked Marco what he found the hardest about the process and how he overcame this. His answer was simple and telling
"To overcome the amount of no. You just have to keep doing that"
Shon talks of having to overcome his shyness and to put aside being in awe – or afraid – of the people he was speaking to
"You can get intimidated by these industry leaders, but the goo goo eyes went after the second round of meets and you just accept it as a normal part of the day and business. Don't be frightened, or they will eat you up! Remember they are only people."
Ian talks about the importance of personalising things where ever possible
"Any decent investors will receive 100's of approaches each week from the next 'Big Thing', so it's hard to get their attention. What we have found is that making the connection request on Linkedin really personal to the investor, will normally get the investor to connect. Focus on getting them interested enough to have a phone call or meeting."
What Kevin found hardest was understanding exactly what investors were looking for. He started by stressing how quickly the business could scale but it turned out investors were more interested in what the business had already achieved. Getting the story right and stressing the facts of what had been achieved to date was the key to overcoming investors' barriers.
And finally…Top Tips for winning investors
Each of the founders I interviewed had an interesting – and sometimes surprising – piece of advice to offer for winning investors.
Kevin offered a practical suggestion which led to a surprising outcome. He instigated a weekly investor telephone get-together every Friday at 5pm. On one session he asked each investor to pick up the phone and speak to one contact explaining why they had backed the business and why they thought it would interest their contact. That exercise resulted in an investment of £150K that afternoon. As Kevin put it
"The right pitch to the right person will release the money."
Marco agreed
"When you clearly present your company, with no ego, just as an excellent investment vehicle, investors will come to you and not the opposite."
Shon and Ian both stressed that it isn't just the money that is important. As Shon put it
"It's definitely as much about the chemistry as about the money. If you can't get on with your investor at this crucial startup phase, then you are in trouble."
Ian agreed with Shon
"We have walked away from a couple of investors as we felt that they were not the right fit for the company. At the time it was hard, but we fully believe that it's the right thing for the company in the long run."
Finding your cornerstone investment – or your lead investor – takes hard work and persistence but making sure you are "investor ready", reaching out to all your contacts and making personal requests are three key steps that deliver results. Good luck!
*************

Is your Startup ready for investment?
Take the Startup Investment Scorecard to discover if your Startup is ready for investment. Start here
Further reading
How to find investors for your startup – quickly!
What is the best way to fund your my business?
When is the right time to raise investment for your startup?