So the kids have broken up from school and the sunshine has put everyone in holiday mode. Perhaps it even feels like you are the only person left at your desk working!
Let's face it, founders and entrepreneurs are hard workers. Running businesses isn't easy and we get used to thriving on problem solving and stress. This probably also means we are a group of individuals that most need a holiday. But, perhaps like me, you are thinking "can I really spare the time?"
I asked three founders whether they thought holidays were worth it and what they do to "switch off" when on holiday. All three had a different approach to holidays and offered interesting tips and advice on how to relax. I hope these will give you the break you deserve.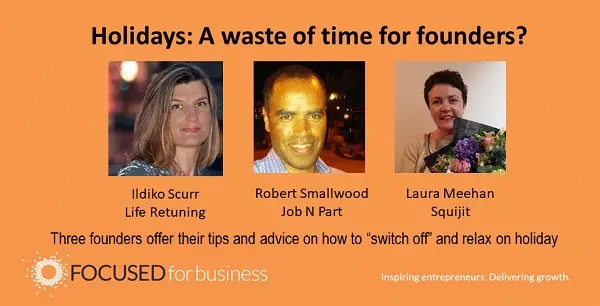 Laura Meehan, Founder of Squijit recognises how hard it can be to take time off, but she also knows it is important. Speaking about holidays, she said
"They give definition to time. When you work for yourself time 'merges' into one – by having a 'holiday' it forces you to 'allocate time' to not working! Or at least trying to not work!"
Perhaps unsurprisingly, Ildiko Scurr Founder of Life Retuning thinks holidays are vital.
"It is important to give our systems a chance to de-stress from the busy, 'doing' lives that many of us lead. Getting away from the overload of information and outside stimuli gives your mind a chance to clear down, which has a direct impact on re-balancing the stress hormones which are likely to be flooding your body in your day-to-day life."
Ildiko also believes holidays offer you a fresh perspective
"Being in a different environment can give you a chance to reassess what is really important. Getting away from it all, allows you to regenerate, review and relax"
Robert Smallwood, founder of of Job N Part recognises this too but goes further. He believes holidays provide important benefits for your business – as well as for you. Holidays offer
"The chance to recover and think. Often the best ideas come during time off. When you are in the midst of everything, typically you get too close to the nitty gritty – getting a bit of distance creates perspective and opens your eyes to new ideas and provides insight into what previously appeared to be insurmountable problems."
"Switching off"
If you are anything like me, in the weeks running up to going on holiday you work twice as hard to clear your "To do" list so you can leave things with a clear conscience. The trouble is this can mean you start the holiday exhausted and find it hard to relax and "switch off". By the time you have finally relaxed it's time to go back to work!
Laura recognised this behaviour and admitted she found it very hard to "switch off" but was trying to
"Be more 'mindful' of the here and now – especially with regards to time with the kids. They're not kids for very long!"
Robert also finds it hard to do nothing.
"The idea of sitting on a beach is an anathema to my slightly hyper active nature!"
Instead, he looks for displacement activities such as
"site seeing, taking part in some reckless sport or simply spending time with family and doing what they want to do…anything so long as the activity is all consuming."
Ildiko is strict with herself
"I leave my Mac behind and only look at my phone at designated times that I set for myself. I also make sure that I do not open any emails, files or projects on my phone while I am on holiday and that I focus fully on the people I am with. A great way to make this easier, is to learn how to listen intentionally. That means intending to make any conversation you have with someone, or anything you are reading or watching, the sole focus of your attention. This in itself is a holiday for your mind, which helps your body to relax and switch off too."
How to make time for holidays
If you are still wondering whether you can spare the time for a holiday this summer, take heed!
If, like Laura, you find it difficult to take a proper break then, at least, plan is some downtime
"If you really need to, you can plan what work is do-able on holiday. Be careful to select work that won't affect your enjoyment of the holiday too much."
Ildiko also recognises how important it is to plan a holiday into your schedule, she recommends
"Book out 'me time' for a holiday in your diary and recognise that it is vitally important for your personal maintenance. It is not a luxury. It is a necessity for your well-being in the long term. Most of us consider it important to book our car in for a service, so isn't it even more important for the driver to be in top shape too?"
Robert is more adamant still
"Nothing is really more important than your health – relaxation and stress relief is key to maintaining your health. A holiday can be a day, a weekend or longer. A successful business is not much use if you are dead or too sick to enjoy it."
If you are still believe a holiday is not worth having because you won't be able to switch off, then you could always find out more about Ildiko's Re-Minding process, and book a "Beyond MindFULLness" masterclass which teaches how to put your thoughts into silence so that you really can "switch off".
---
Is your Startup ready for investment?
Take the Startup Investment Scorecard to discover if your Startup is ready for investment. Start here