Startup Founders share their experience and suggest where to look for a co-founder
It is relatively easy to build a product and launch a business – although it may not feel like it when you are in the thick of it! It is a lot harder to find a co-founder for your startup and build a strong management team. And yet it is people who turn a product (or service) into a business using their skills, prior experience, contacts and industry knowledge. That is why investors place so much emphasis on co-founders and team when investment in your startup. If you can find a co-founder and build a strong team experience says your startup will raise more money.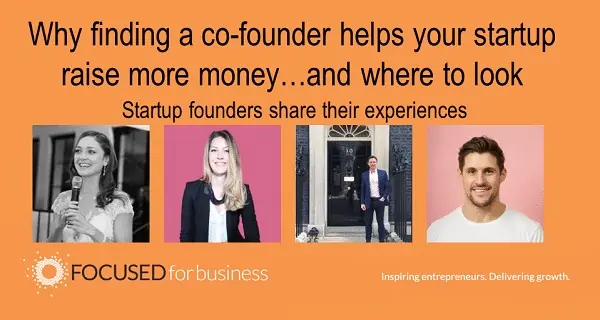 Why do investors back co-founders and teams?
Investors know how important the founders are to the success of a startup. Yet it is rare for one individual to have all the skills needed to build a business. A mix of skills is required – technical, sales and marketing, operations and an eye for the finances. Investors also understand the stresses and strains starting a business puts on you. They would rather see that strain shared. Then if one co-founder is having a challenging time, the other co-founder can help take the strain, re-motivate their colleague and help get things back on track. And what if –heaven forbid – the founder gets ill or falls under a bus. How will the business fare then? Investors seek to protect their investment and offset risk – that is why they back co-founders and teams, not just one founder.
Is a co-founder essential?
Interestingly, there is some evidence that having a co-founder is not essential to the success of a startup and further evidence that single founders can raise significant sums of investment on their own but there is also evidence to the contrary. Most of the crowdfunding platforms have evidence that suggests companies with a team behind them raise more than those with a single founder. The fact is that investors prefer to back teams.
It's not just investors who recommend building a team – founders do too!
Startup founders also seem to prefer having a co-founder or team working with them. When I raised investment for my (previous) business, the lead investor met each member of my team and wouldn't invest until he had – and I really benefited from having a team. They kept me going when the going got tough!
Lindsay Trombley Co-Founder and Co-CEO of Ruley sees other benefits too
"Finding the right business partner is pure gold. It's amazing when you find a cofounder who shares your vision, with whom you see eye to eye (even though you might not always agree on all the details), with whom you can resolve disagreements without drama, and whose skills and strengths complement your own."
Joel Burgess, Founder and CEO of Nutrifix doesn't currently have a co-founder and, even though his business is progressing well, he says
"I certainly see value in having a cofounder – especially a technical co-founder."
Joel continues
"I've taken a "if it feels right" approach rather than hunting down a co-founder. It hasn't worked."
What should you look for in a co-founder?
As with all partnerships, think about what you are looking for in a co-founder.
Graeme Risby, CEO & co-founder of HiyaCar, recommends looking for
"Somebody with different skills to yourself but a similar vision and outlook on things."
Another Founder I spoke to (who preferred to remain anonymous) and who parted company with his co-founder explained
"My co-founder and I had too similar a set of skills. Seeking a co-founder in future, I'd try and find someone who'd better cover my areas of weakness."
Where do you find a co-founder?
A good place to start is with your network of friends and former colleagues. If you've worked with someone before you will know first-hand their strengths – and weaknesses.
Elizabeth Townsend-Rose, President and co-founder at Agora had worked with her co-founder before
"We worked together at a previous startup and consequently had a similar perspective on where we see opportunity. We also have a shared understanding of how we work, and how to run a business."
She went on to add
"Getting along with someone is different to being able to work well with them. It helps if you have worked with someone before and been in a stressful environment together."
So put the word out, ask around and let people know what you are looking for. Be open to finding your co-founder almost anywhere. A chance conversation I had with a friend in the pub led to him joining my startup and Lindsay Trombley confessed she met her co-founder at an NCT class – certainly an unexpected hunting ground!
Extend your search for a co-founder beyond your immediate circle of friends and colleagues
There are a range of online networks – be that Linkedin or more specialist networks – that help you widen your search for a co-founder. You might like to try:
CoFounders Lab – designed specifically for startups to find co-founders, team members and advisors
Antler – run an accelerator that brings together founders with good ideas and helps them build a team
Founders Nation – linking co-founders
Attend events where co-founders are likely to be
There are a lot of events designed specifically for founders and startups and these can be good hunting grounds for finding a co-founder. General events can be found on EventBrite but more focused opportunities include:
Specialist startup weekends also provide excellent opportunities for meeting people keen to get a startup off the ground, who might join forces with you
Universities also offer opportunities for finding co-founders, particularly if you are looking for someone with specialist technical or business management skills. The first start up I joined was after doing an MBA. A fellow student asked me to join his startup.
Keep your eyes and ears open. Finding a co-founder can lead to surprising discoveries
Once you adopt the mindset that a co-founder could be found almost anywhere, you may be surprised just where you can find a co-founder
Graeme Risby explained he and his co-founder
"bumped into one another at my local (very small) village fete in Kent one summer (after not seeing each other for 15 years)"
On a previous occasion, some 20 years ago, Graeme also remembered he found his co-founder when they
"worked part time together on the meat counter in Waitrose, whilst doing weekend work & studying A levels"
Elizabeth Townsend-Rose reconnected with someone in the basement of Loulous, went to dinner with them the following week and proceeded to hire them after that!
So, if you are currently struggling to find he perfect co-founder, keep the faith. Remember it only takes one chance conversation and you could be on your way! 
Is your Startup ready for investment?
Take the Startup Investment Scorecard to discover if your Startup is ready for investment. Start here
Further reading:
Discover how "traction" makes it easier to raise investment