About 18 months ago, Crowdcube asked me to write an article on how to value your start-up, which I duly did. It was published and I pretty much forgot all about it.
Imagine my surprise then, when CrowdCube dropped me a note to say the article had had 14,000 views. They were impressed (I think "awesome" was the exact phrase!), and so was I.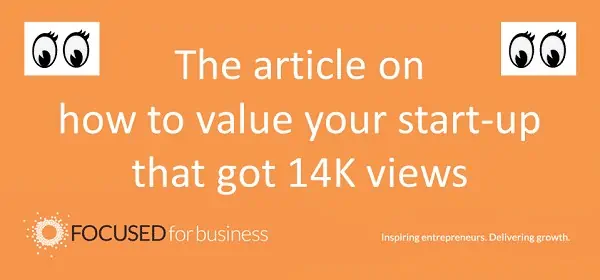 Stepping aside from self-congratulatory indulgence, it's perhaps not as surprising as you might think. Valuing your start-up or early stage business is one of the most important elements of any investment raise – be that crowdfunding, angel investment or a private equity round. Setting the wrong valuation will deter potential investors just as sure as setting the right valuation can attract them.
What's more, as a young business, knowing how to value your start-up is one of the trickiest elements of an investment round to get right. If start-ups had the stable and predictable revenues of more established businesses, there are lots of clever accounting and corporate finance tools that can be used, but none of these apply when you have fledgling or fast-changing revenue streams.
So how do you value a start-up?
Here's 6 key pointers to get you started
Be pragmatic
Recognise that too high a valuation will close conversations with potential investors even before they have begun. Conversely, setting a valuation too low may mean you sell more equity than you actually need to. Start by identifying a realistic range within which your valuation will gain consideration from investors.
Do your research
Conduct some bench-marking research to identify other businesses at a similar stage to yours that have recently raised investment. What was their valuation? Crowdfunding platforms can be very helpful when collecting benchmark data since the valuation is more public than for private deals. Use the data to develop an upper and lower range for valuation.
Evidence your valuation
Identify "proof points" – things you have already achieved – which substantiate your valuation. The best proof points are things that create value in your business such as having developed a product that customers are raving about, having found a proven route for attracting new customers and being able to show revenues.
Listen to feedback
Valuing start-ups is not an exact science. It's more of a negotiation. Start by testing your valuation with trusted advisers, fellow founders and friendly investors. Listen to their feedback and use that to get a feel of whether your valuation is in the right ball park – or not!
Be ready to negotiate
Even when you have arrived at a sensible starting point for valuing your business, don't just expect investors to accept this. You can be pretty sure they will want to negotiate. Be ready with tangible evidence (of other similar investment raises, of your proof points, etc) to justify your valuation. Don't be afraid to ask potential investors to justify how they arrived at their (different) valuation – be that higher or lower. Use all your negotiation skills to reach agreement
Secure a lead investor(s)
It is easier to settle on a valuation as "definitive" once you have a lead investor(s) ready to invest at that valuation. Once you have secured this, be sure to mention to other potential investors that you have a lead investor(s) backing the round at this valuation. (For tips on how to secure a lead investor, read "How to find cornerstone investors")
**************************************
Is your Startup ready to attract investors?
Take the Startup Investment Scorecard to discover if your Startup is ready to attract investors. Start here