Your startup is hungry! It needs cash for product development, marketing and building the team. You're probably hungry too. You see the opportunity. You have a vision for growing your business but it won't even make the (metaphorical) oven – let alone get cooked – if you don't succeed in raising investment for your startup.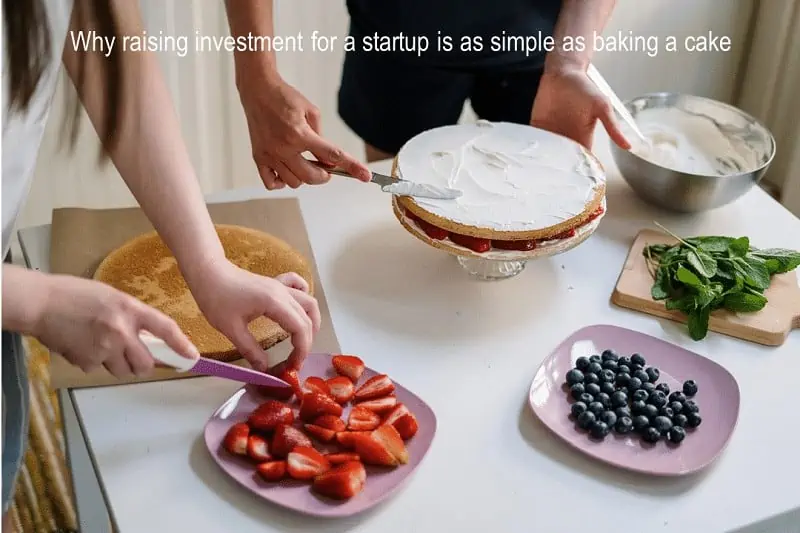 Raising investment for a startup is like baking a cake.
Gather the ingredients
First you will want to gather together all the ingredients that are needed for successfully raising investment. What does the business do? What evidence supports this? What have you already achieved in the business? You will also need to tell the story of how your business grows using a compelling financial forecast. Investors like to know what they get in return for their investment so you will need to value your startup too.
Craft the recipe
Ingredients in themselves are not enough. You need to put them together in such a way that potential investors can see the opportunity and are excited about it as you are. You need a recipe.
Bake the cake
No one likes raw egg in their cake! You have to cook a cake for the right length of time. It's the same with investors, they don't back ideas or hunches. They need to see that business is "cooked". Investors call this "traction". It's how you demonstrate what the business has already achieved and prove this is more than a hunch.
Conduct taste test on the recipe
Different people like different cakes. Do you prefer chocolate cake or fruit cake?
Different investors like different deals for different reasons but, just as most cakes have four key ingredients (flour, sugar, butter and eggs), so investors look for four main ingredients:
Opportunity – what's the problem your startup solves for customers? How big is the market?
Team – who is behind the startup? Can they deliver on the market opportunity?
Traction – how far has the business got to becoming a reality?
Deal – what is on offer in exchange for investment? Is this fair and realistic?
Once you are happy you have built a compelling narrative around these basic elements, check others agree with you by conducting "taste tests". Speak to trusted advisors, other founders who have raised investment and – when you feel ready – potential investors. Are they excited by what is on offer? Is your "cake" cooked to perfection?
Ice the cake
No one likes a "soggy bottom" to their cake – and you can expect investors to look beyond the icing. Investors will do their due diligence. Metaphorically, this means investors will prod and poke your cake as if they were judges at a bake-off. You can expect them to test your product, develop their own view of the market opportunity, interrogate your business model and financial forecast and get to know your startup team – and that's before you get into the nitty gritty of valuation and term sheet.
Offer investors a slice
Raising investment doesn't happen overnight. You need to get out there, have lots of "cups of tea" with potential investors and show off your "cake". You will want to work your network, pitch at investor events and get introductions to investors in order to find the investors who want a slice of what's on offer.
Will you share your cake?
Once you have a queue of investors lined up to take a slice of your delicious "cake", you're in a position to choose who you'd like to share the cake with. Consider what each potential investor brings to the conversation. Who can make the biggest difference in your startup based on their skills, experience or contact book? It's not just about the cash. Who do you want with you for the journey?
Don't forget the washing up!
Baking isn't finished until you've washed up and put everything back in the kitchen cupboards. It's the same with raising investment for a startup. The deal isn't done until the money is in the bank. There are term sheets to agree and valuations to negotiate.
As easy as pie?
Perhaps, baking a cake isn't quite as easy as it first seems! So much can go wrong in the mix or the cooking. Raising investment for a startup is similar. It's a process – and requires a chemical reaction – just like baking. It takes time to perfect. You may need to practise and improve to avoid that "soggy bottom" feeling. You can also have fun – in the making and eating of your "cake". When you understand the process, and surround yourself with people who can support you on the journey, you can settle into enjoying the all those cups of tea with potential investors and raising investment for your startup.
Is your Startup ready to attract investors?
Take the Startup Investment Scorecard to discover if your Startup is ready to attract investors. Start here
Further reading:
For the full recipe on what investors look for in a "cake", read 7 Essentials that unlock startup equity investment
Discover what helped PEEQUAL raise investment for their startup