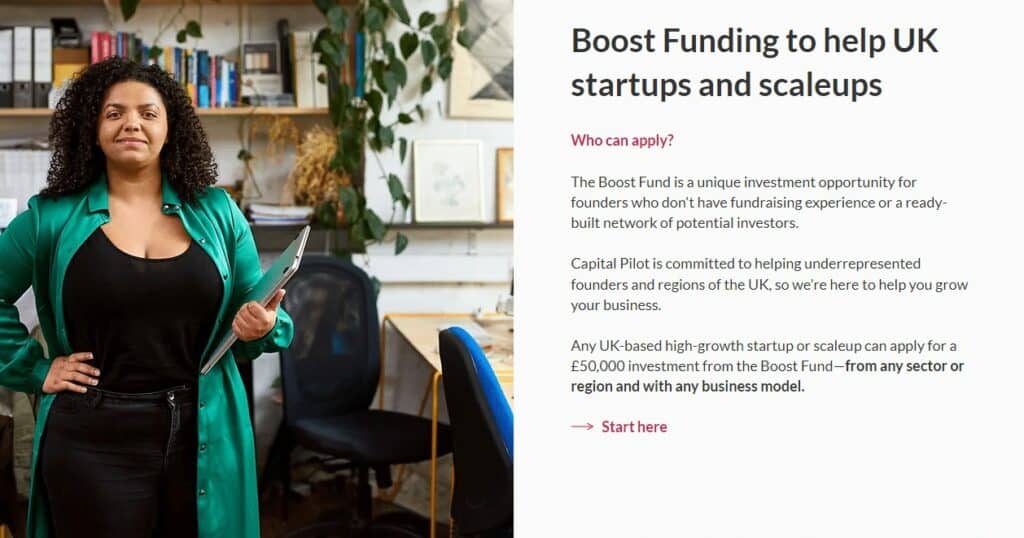 Our Partner, Capital Pilot, has launched a new fund to improve access to funding
Let's face it, raising equity investment is hard. All the statistics confirm how hard it can be for startups to access funding.
In the UK, Beauhurst reported that the number of deals completed in 2021 dropped by 4%, and that continued a decline that had been reported previously. The numbers get worse if you happen to be a female founder or a founder from an ethnically diverse background.
We're delighted to report that our partner Capital Pilot have launched Boost Fund to improve access to funding. We already work with Capital Pilot, the Investability and Ratings Agency, to provide detailed feedback and an independent assessment of startups on Funding Accelerator. Now the reporting provided also gives access to funding.
Startups who score above a certain level on Capital Pilot's Investability Assessment are eligible for an offer from the Boost Fund, which offers an immediate investment of £50K to eligible startups.
To score a strong investability rating and access the Boost Fund, you need to provide a comprehensive long-from pitch deck, a credible financial forecast and a realistic valuation. That's why Sprint One of Funding Accelerator supports you in preparing exactly what you need to apply to Capital Pilot. During the 4 week programme we show you the level of detail needed in your pitch deck, give you a financial forecast template the Capital Pilot assessors love, give you tools to reach a credible valuation and provide you with 1:1 feedback from our expert mentors. We'll even pay your Capital Pilot application fee.
Once you are fully prepared, it takes less than 30 minutes to complete an application for an Investability Rating. You'll receive a detailed report giving feedback on your startup within 7 days and, based on your rating, you could immediately qualify for £50,000 investment. Funds are transferred immediately on completion of a simple subscription agreement.
For startups that don't make the grade initially the report provides clear guidance on the areas to focus on and, once addressed, startups can reapply to the Fund.
Richard Blakesley, founder and CEO of Capital Pilot, said
"We all know how important it is to ensure great businesses get the funding they need to thrive, and we also know how difficult and time-consuming fundraising can be. The Boost Fund will supercharge startups' funding campaigns in line with our mission to ensure equal access to funding. For everyone. Everywhere."
To apply to Boost Fund sign up for a Capital Pilot Investability Rating.
Not sure whether you are ready to apply to Capital Pilot take the Startup Investment Scorecard or attend a free Funding Strategy Workshop to gain advice on how to position your funding round.