Making it quicker and easier for startups to raise equity investment
Raising equity investment is a distraction – and a time-consuming one too! It's not what you set out to do as a startup founder – it's just a means to the end of growing your business. Our mission is to speed up the process of raising equity investment. Our vision is to see a level playing field for all accessing investment.
Is your startup ready to attract investment?
Take our quick Startup Investment Scorecard to find out
A proven methodology
In the last 12 months, we've raised over £4 million for our clients, with individuals raising between £10K and £840K. In December 2020 Focused For Business' founder, Hatty Fawcett, was voted one of Britain's Top 50 Business Advisers by Enterprise Nation for her work in raising funding. We work with you to: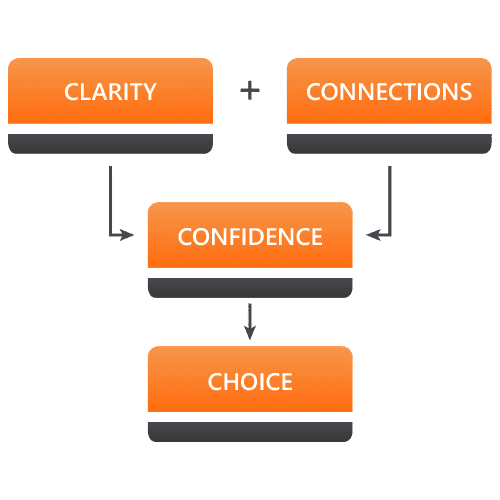 Provide CLARITY on the information investors expect to unlock equity investment
Make CONNECTIONS to investors but also to other founders on the same journey as you
Build your CONFIDENCE so you attract a range of investment offers
Give you CHOICE, so you can select the right investors and investment offer for your situation, your growth ambitions, your business.
Free resources:
Take our quick Startup Investment Scorecard to find out if your business is ready for investment.
What is the best way to fund my business?
A quick question to ask, but a complex question to answer. It depends: On the stage of your business; your objectives for the business; your reasons for seeking investment; and the speed you require it. Read on
Why raising investment is as simple as baking a cake
Raising equity investment for a startup requires a recipe, a process and a chemical reaction – just like baking a cake. Find out why
7 Essentials that unlock equity investment for startups
Investors look for 7 Essential ingredients when deciding whether to back a start-up. You have to be succinct to get their attention. Read on
Traction makes it quicker to raise funding for a startup
If you want to raise funding for a startup, you'll need to speak the language of investors. Investors will ask "how much traction have you got?" What do they mean? Read on to find out
Three ways to value your startup and unlock equity investment
Valuation is about balancing risk and reward. If you don't talk about the equity on offer in exchange for the investment you seek you fail to give investors the information they need to back your business….Read on
Why your executive summary is your most important investment document
When seeking investment for your business it pays to think like an investor, giving an investor the information they want…Read on