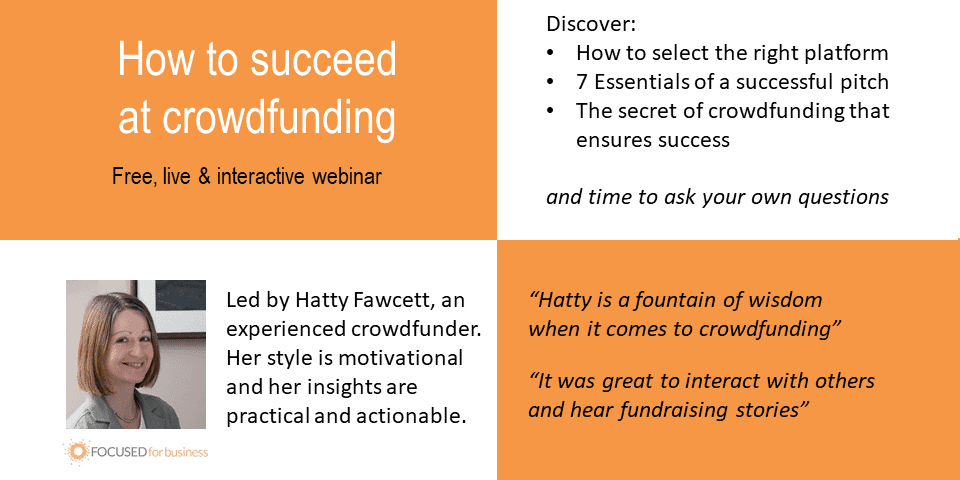 A free 60 minute, live and interactive webinar presented by experienced crowdfunder Hatty Fawcett, Founder of Focused For Business.
You will discover:
How to select your crowdfunding platform to attract the right investors.
The 7 essential elements of a successful investment pitch.
The secret of crowdfunding (that no one tells you) which is key to success.
How to set your crowdfunding target to ensure success – not failure.
The inside track on how to off-set risk to attract serious investors.
Places are limited to ensure a good interactive experience. Please book early to avoid disappointment – scroll down to book.
As the webinar is online, there is no travel time, simply log from your computer wherever you are – all you need is an internet connection and a webcam. A login link will be emailed prior to the webinar.
There is no need to bring anything but please come ready to participate fully. Hatty will share specially prepared content, answer your questions about crowdfunding and give you the opportunity to learn more about the eight week online programme, Crowdfunding Accelerator.
BOOK YOUR PLACE NOW
Click on the "Select a date" link below to see all available dates and times for this webinar and to reserve your free place:

(If your browser does not display the booking form, click here to be re-directed to an Eventbrite booking form).
What people say about this webinar
"A very informative seminar that gave me a much clearer understanding of the different types of crowd funding available and which of these might be most suitable for my business"
"Hatty is a fountain of wisdom when it comes to crowdfunding."
"Hatty is a great teacher! The rich content of the course kept me interested and helped me understand how crowdfunding fits into various financial offerings."
"I found your webinar to be extremely helpful and would rate it 10/10"
"It was useful to interact with the others and it's reassuring to hear your stories of fundraising."
"I found the webinar useful and, as always, your tone and enthusiasm are very motivating. You would be a great person to work with because of your know-how."
About Hatty
Hatty Fawcett raised £250,000 through crowdfunding and angel investment for her own business venture. She learnt the hard way what it takes to raise investment and now speeds up the process of getting investment for startups and early-stage businesses. Hatty runs Crowdfunding Accelerator an eight week programme designed to make it quicker and easier for businesses to prepare for crowdfunding. She regularly speaks on crowdfunding and is an active blogger on the subject of raising investment. Hatty is also a Regional Manager for Angels Den and is a Talent Spotter for The Start-up Funding Club.
What people say about Crowdfunding Accelerator
"Hatty is a great teacher! The rich content of the course kept me interested and helped me understand how crowdfunding fits into various financial offerings. This course has given me confidence on how and when to organise a campaign." Sue Frost, Co-founder Curamicus
The Crowdfunding Accelerator was an excellent way to explore the concept of crowdfunding in a real hands-on and practical way which resulted in having everything I needed to proceed." Claire Timbrell, Co-founder The MacGuffin Project
"Hatty was a fantastic coach helping us create a short pitch, ensuring the delivery of key investor information in a simple but effective way" Gill Hayward, Co-Founder, YUU World
"Hatty made the daunting process of accelerating my business a simple, outlined and structured process. As a company we have gained direction, professionalism and valuable information through her insights". Arun Thangavel, Co-Founder, Hollabox