An online diagnostic tool that shows if your business is "investor ready"
Raising investment is time consuming. Networking to find the right investors, pitching to investors and answering their questions can feel like a full time job. And that's on top of the job you already have running your business! Seeking investment before you are ready can be a complete waste of time. But how do you know if your business is "investor ready"?
Serious investors receive a wealth of investment opportunities but they don't have enough time to look at them all. So, they prioritise investment opportunities and they look for specific information to help them do this quickly and effectively.
How does your investment opportunity stack up from an investor's perspective? Would they like what they see? Would they back your business? Are you "investor ready?"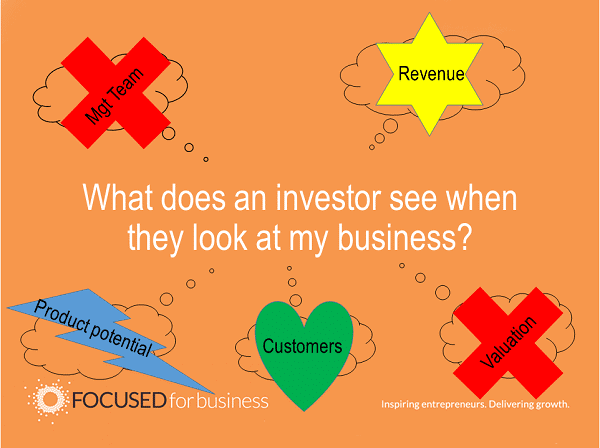 Focused For Business offers an independent diagnostic tool that profiles your business from an investor's perspective, creating an Investment Profile Report. This explains how an investor would rate your deal and provides a checklist of things you can focus on to improve your "investor readiness".
How does it work?
Step 1:
You complete an (online) diagnostic tool which takes about 15-20 minutes to complete. (It is very self-explanatory but there is a Youtube video that offers additional guidance if you need). The information you share in this diagnostic is kept confidential and will never be shared with investors.
Step 2:
Once you have submitted the diagnostic, an Investment Profile Report is created and emailed (in complete confidence) to Hatty Fawcett who will review the report and ask you to book a Discovery Meeting. You can book a date and time to suit you and you will be given a link to Hatty's online calendar to facilitate this. The Discovery Meeting costs £95 and you will be asked to pay this in advance of the meeting.
Step 3:
During the Discovery Meeting you will receive the Investment Profile Report and Hatty will explain what an investor's response to the investment opportunity is likely to be. You will also receive a checklist of actions you can take to strengthen your investment opportunity and Hatty will make recommendations about investor networks suitable for your business. If you both agree you are ready to seek investment, Hatty will be happy to make investor introductions on your behalf.
Get Started
To get started, please use the link below to access and complete the diagnostic tool that generates your Investment Profile Report:
https://drisk.it/submit/#/home/focused-for-business