Register and download your copy of the "Valuing your small or early stage business: Art or science?"
There comes a point in the life of every business when you know you need more investment to maximise the business opportunity.
If your business is a start-up or small business you may not have the track record or assets to access traditional forms of lending. Alternative finance can be a welcome lifeline. You may also feel you want to bring additional expertise into the business. In which case, angel investment where the business angel brings expertise, skills and contacts as well as their cash can be a better option for raising investment.
Whatever form of investment you choose, you will need to issue shares (equity), which means you will need to value your business. But what is your business worth? How do you value a small or early-stage business?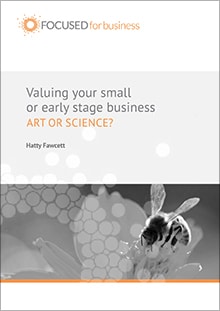 This brief, practical guide will take you through:
Why formal valuation models will only take you so far
How to focus on tangible demonstrations of value
Why valuation is a negotiation
How to replace "finger in the air" estimates with modelled forecasts
Why it pays to listen and learn
How to chose your investors wisely
All of which will give you a better idea of the true value of your business.
Register and download your copy of the "Valuing your small or early stage business: Art or science?" now