It's that time of year. The time for new year resolutions and, for your typical startup founder, re-visiting the business plan. Whether it's about budget setting, a quick check to ensure plans are on track or a more root and branch review of what needs doing, many of us will be setting out what we want to achieve this year.
A lovely time in many ways. A sense of anticipation, ambition and identifying opportunities. And who doesn't love a clear road map with identifiable milestones and steps for action?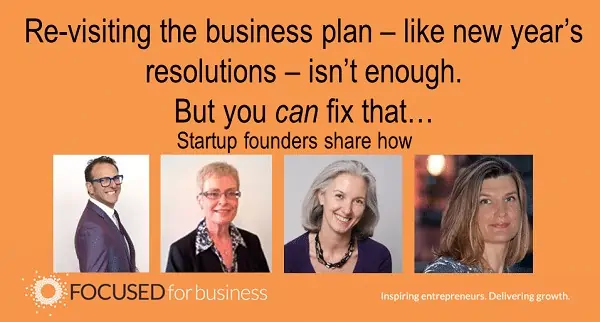 But will action follow? Will you flounder when the going gets tough? Allow yourself to be distracted instead of work on that "tricky" project? Do you even know what the priorities are or is there a sense of overwhelm that leaves you confused and demotivated, unsure where to start? Perhaps you will even blame others for your inaction – "there's no budget…", "I haven't the right team to progress this…" "We don't know the implications of Brexit yet…" Procrastination seems the easier path.
I know some who don't even write a plan. What's the point? You know you won't look at it again, and why would you set yourself up to fail anyway?
You see my point? A business plan, just like a set of new year resolutions, isn't enough on it's own. You need motivation, accountability and practical help when things don't go to plan. You need people to walk – or run – alongside you on the marathon that is running your startup. And I don't mean just anyone. You want someone who has "been there, done that and got the t-shirt". Someone in the same situation as you, who shares your experience because they have been through something very similar.
It's one of the reasons I created Funding Mastermind.
Being with other startup founders and business owners who generously pool expertise and experience, creating a space where everyone learns, improves and grows their business. This isn't about networking or a talking shop. This is about focus. Focus on the challenges of running and growing your business. That focus is rewarded with honest feedback, grounded insight and the best mix of challenge and encouragement. What's more, it works for all business owners, all year round, not just when you are a startup founder re-visiting the business plan!
Jason Kirk, Founder & Director of Kirk & Kirk, explains
"Sharing problems and discussing approaches and potential solutions with the rest of the Board is an extremely productive process."
Jason's business faced exciting strategic opportunities but, as if often the way, not everything could be done all at once
"We have made significant progress with the help of the this founder community these last months, with some important decisions being made."
The round table discussion works because the group is hand-picked. All members of an Funding Mastermind have businesses which are at a similar stage. They may be in different sectors but their growth ambition is similar – and so will many of the strategic and operation challenges they experience. The magic happens when you hear how someone else tackled the issue you've been having sleepless nights about. In fact, you not only hear, but see what's possible for your business.
Sue Frost, CEO & Co-Founder of Curamicus, found the "magic" encompassed a range of things
"I've gained peer support, helpful suggestions and tips from other entrepreneur business owners in this confidential, business like and friendly forum."
Diana Parkes, Founder of The Women's Sat Nav to Success, described how
"This monthly discussion with a hand-picked small board of diverse entrepreneurs cut through to enable me to not only see the change that was needed, but to feel differently – positively – about embracing those changes."
It is the trust that builds between business owners that is key to change. It allows us to be honest. It encourages us to have those frank "warts and all" conversations that rarely happen at networking events.
Ildiko Spinfisher, Founder of Retuning Your Business, found this instrumental in her business
"I love the honesty of the community. Things aren't always rosy – there are ups and downs in business. In our meetups you can express your frustration and get perspective and practical advice to move forward positively."
---
Is your Startup ready for investment?
Take the Startup Investment Scorecard to discover if your Startup is ready for investment. Start here
Further reading:
Find out more about Funding Mastermind