Your business needs investment. You are out there networking and pitching like crazy but despite your best efforts investors remain elusive. It's a familiar story. How do you get investors "on the hook"? The Allbright Academy which supports female entrepreneurs, approached Hatty Fawcett, Founder of Focused For Business and an AllBright Academy Ambassador, to ask her advice for finding, approaching and pitching to investors. Here Hatty shares her top tips.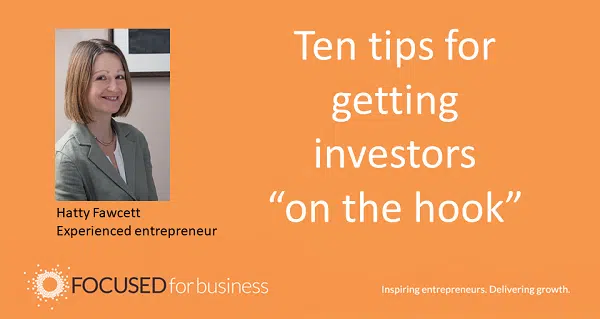 Always be ready to pitch
Investors can be almost anyone. When I raised investment for my business my investors included customers, suppliers, professional investors and even people who knew me through a shared hobby. The point is, almost anyone can be an investor, so you need to be ready to pitch at any point.
Approach people you know first – people who see firsthand the hard work you are putting into your business. Why not approach friends, family, employers, suppliers to the business and even your customers. They can help you get an investment round started. It's a lot easier to attract new investors when you already have your first few on board!
Keep it short and sweet
Professional investors – sometimes called Business Angels – tend to be busy people; it can be difficult to find these people and even harder to get their attention. You will need to have a short pitch (sometimes called an "elevator pitch") that you can use – in either written or spoken form – to quickly give investors an introduction to your business, giving them enough information to pique their interest.
Get an introduction
It is often easier to get a meeting with a business angel if you have a mutual connection to introduce you. If you have someone in mind that you'd like to approach, use your network (and LinkedIn) to try and find someone that can make that introduction. If you're not sure who you want to approach, another way of getting started is to reach out to your network explaining what you are doing and asking for any suggestions they have as to potential investors.
Have a short prepared summary
A one-page executive summary of the investment opportunity (not of your business plan) is a key tool in your investor toolkit. Written well, this should give investors the information they need to make a decision as to whether this is an opportunity for them. Whatever you do, don't send your pitch deck. A pitch deck should be presented and isn't a standalone introduction to your business, save that for when you actually meet the investor.
All investors are individuals – they have their own particular interests, focus and areas of activity. Professional investors (such as business angels, private offices and equity funds) will often not agree to meet you – or perhaps even to talk to you – until they have seen something of the opportunity first.
Arrange a meeting
Don't expect professional investors to back you after just one conversation. They will need to get to know you and your business. This is best done face-to-face so your initial aim should be to get a meeting or a skype session in the diary.
Follow up every lead
Professional investors are busy people. Don't assume they will get back to you. You need to take the initiative and keep the conversation alive by following up with them. After every conversation, meeting or pitch, schedule time to follow-up with the people you have spoken to and get their feedback on your investment opportunity. Ask if they have any questions or concerns and – of course – whether they are interested in investing.
Keep the story moving
Professional investors back businesses that are going places, so you need to
demonstrate that your business is evolving and growing every day. When following up with a business angel be ready with a juicy piece of new information that demonstrates your business is continuing to grow. This could be news that you have secured a new contract, delivered a key partnership, or the results of a new marketing campaign.
Don't take "no" personally
Not everyone you talk to will back your business. Get used to hearing the word "no" and moving on. It's better to know that someone isn't interested in your opportunity than to waste time talking to them when they have no intention of investing. Move on!
Ask for feedback
Use every interaction as a chance to learn something. Ask everyone you speak to for feedback – even if they are not interested in investing. Their feedback can improve your understanding of how others perceive your business and can help you adapt your positioning, if necessary. Ask for help from the people you speak to too – who do they know who would be interested in this opportunity? Will they introduce you?
Positivity is key
Raising investment is hard work. It can feel relentless and if you have a run of "nos" it can bruise your confidence. Do what it takes to stay positive and keep your energy up – take an afternoon off and do something you love to boost your morale. Then get back to it, refreshed, revitalised and believing good things come to those who persevere!
*************************
Is your Startup ready to attract investors?
Take the Startup Investment Scorecard to discover if your Startup is ready to attract investors. Start here
Further reading
• Why your executive summary is your most important investor document
• How to find and win investors
• How to create a business valuation that gets your start-up funded