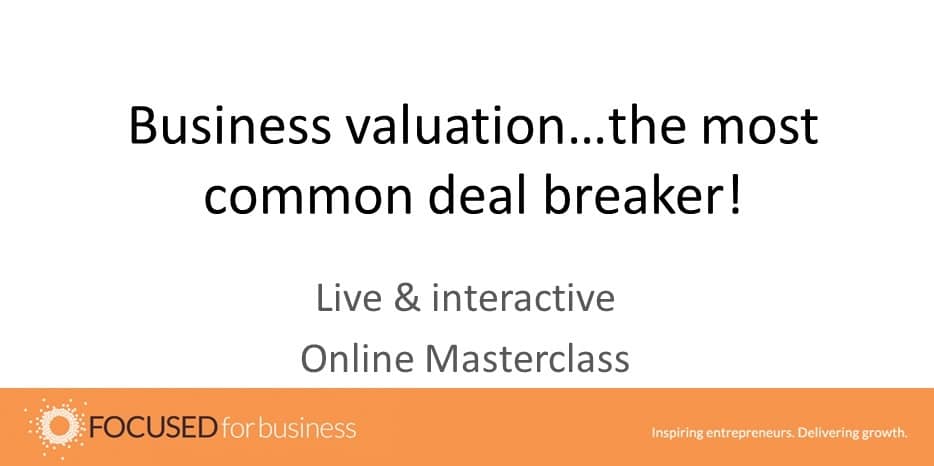 A down to earth, step-by-step approach to creating a business valuation for start-ups and early-stage businesses looking to raise angel investment or crowdfunding.
You will:
Learn what a business valuation is and how it changes over time
Become familiar with the terminology used to express a business valuation
Discover the evidence you will need to justify your business valuation
Understand what investors look for when assessing value in a business
Undertake a practical exercise to identify the drivers of revenue in your business
See a worked example of a financial forecast
Receive a valuation calculator
Places are limited to ensure a good interactive experience.  Please book early to avoid disappointment.
What people say about the masterclass
"I attended the valuation masterclass to get a better understanding of how to take my financial model (used for budgeting) and create a valuation for my business. Hatty is great at using real life examples to answer questions and broke down the reasons why investors may look at valuations differently to me. I also found it very useful that Hatty was willing to review my financial / valuation model before the masterclass to ensure I could get the most out of it." Mani Johal, Founder, Fight City Gym
"This masterclass was an excellent experience. it ticked all of the boxes. The interactive nature of the masterclass ensured that all of the questions I had about my business valuation were answered." Martin Lewis, Graduate Attire
Duration: 1 hour 45 mins
Location: online using Zoom video conferencing
Presented by: Hatty Fawcett, Focused For Business
Fee: £250
Book your place on the next masterclass
If you can't see the booking form, book your place via Eventbrite
About Hatty
Hatty Fawcett is the founder of Focused For Business. She raised two rounds of investment for her own business venture and now supports others in raising investment, predominately through business angels and crowdfunding. She runs a series of online masterclasses, a Fast Track To Funding coaching programme and Crowdfunding Accelerator all of which are designed to make it quicker and easier to raise investment. Hatty also offers  a range of free webinars and Funding Clinics. Hatty regularly speaks on the topic of raising investment and is an active blogger on the subject.
What people say about working with Hatty
"Hatty is a great teacher! The rich content of the course kept me interested and helped me. This course has given me confidence." Sue Frost, Co-founder Curamicus
"The webinars from Hatty are great but the best bit is the interaction with the other participants and hearing how they are approaching their journey to investment." David Toscano, Cin Cin Italian Canteen
"Hatty was a fantastic coach helping us create a short pitch, ensuring the delivery of key investor information in a simple but effective way" Gill Hayward, Co-Founder, YUU World
Hatty's content was excellent and I learnt far more than I had imagined. We had a good laugh whilst getting some serious work done." Sharon Maddy-Patel, Maddy Lou Shoes
"Hatty made the daunting process of accelerating my business a simple, outlined and structured process. As a company we have gained direction, professionalism and valuable information through her insights." Arun Thangavel, Co-Founder, Hollabox
You can read more about Hatty on her LinkedIn profile.
Book your place on the next masterclass