There are so many different ways to raise investment for startups and small business. Investors have increased visibility and choice when it comes to investing too. As a start-up founder or entrepreneur it is vital that you know how to position your business as "ready for investment" and that you have the tools and documentation to support your funding campaign, be that raising angel investment or crowdfunding.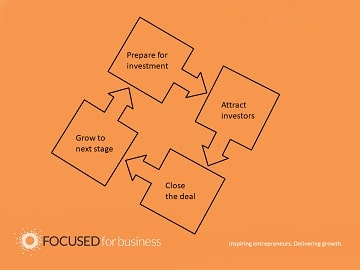 Preparing for investment is a cyclical process which needs to consider
future expectations as well as the current need.
Fast Track to Funding is designed to speed up the process of preparing for investment and attracting investors. Through a combination of one-to-one coaching, specialist masterclasses and documentation review you will:
Discover the seven essentials of a successful pitch
Develop compelling assets that have investors lining up to meet you
Implement a systematic process for attracting and securing the right investors
Gain the language to hold your own with investors and close the deal
Grow in confidence not just in pitching your business, but as a credible, investable founder.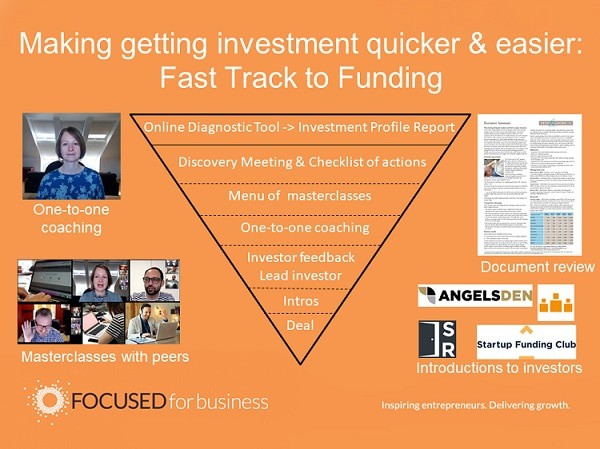 Fast Track to Funding is not suitable for all founders and business owners. You need to be ready for investment, be committed to take the steps to prepare for investment and be up for the roller-coaster journey that is "raising investment".
Fast Track to Funding is a bespoke programme based around a menu of options. No point in paying for what you already have if it fits the bill! The programme starts with a completion of an online diagnostic tool that creates an Investment Profile Report. This is emailed (in confidence) to Hatty Fawcett who will review the report and ask you to book an (online) Discovery Meeting (which costs £95). During the Discovery Meeting (a 60 minute video call) you will receive the Investment Profile Report and Hatty will explain what an investor's response to the investment opportunity is likely to be. You will also discover:
How suitable your business is for investment – and what practical steps you can take to make your business more appealing to investors.
Understand the different funding routes open to you and receive an initial assessment on the route(s) most likely to lead to success.
Explore the documentation you will need to support the funding process and receive practical feedback on how to develop and improve that documentation.
Receive an action plan on the steps you need to take to successfully attract investment.
What others say about working with Hatty
"Hatty was a fantastic coach helping us create a short pitch, ensuring the delivery of key investor information in a simple but effective way" Gill Hayward, Co-Founder, YUU World
"Hatty has the rare ability to drill down and ask the tough questions that an investor would ask, helping clarify and shape propositions into the succinct message and format that a potential investor is looking for. She looks at things from an investors viewpoint and is not afraid of challenging assumptions, vital when undertaking an investment round and looking to attract the right type of investment." Nigel Bridges, Founder, Beacon
"I can thoroughly recommend Hatty Fawcett who is in my humble opinion the most knowledgeable consultant on start up investment. Straight talking, honest and well connected. (Expect to be challenged!)" Rob Arnold, Non Exec Director
"Hatty knows what investors like me expect. Take heed!" Don McQueen, Chairman, Dorset Business Angels
Read more recommendations about what it's like to work with Hatty on Hatty Fawcett's LinkedIn profile
Start the Fast Track To Funding Process by completing an online diagnostic tool for your business