Entrepreneur Boards provide support for the startup or small business journey. They tackle the challenges of running and growing your business by pooling the experience and expertise of other business owners within your own confidential professional forum.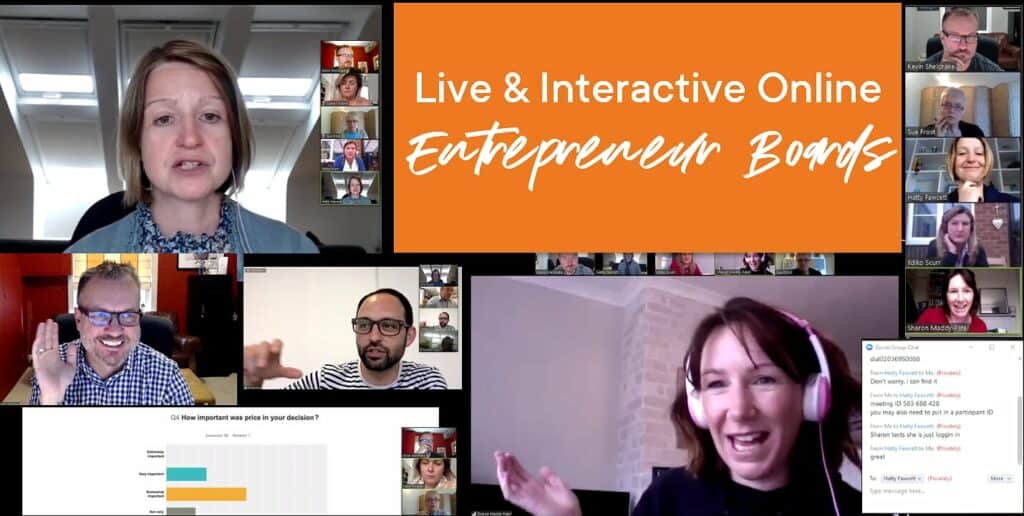 Running your own business comes with a mixture of feelings – excitement and ambition, pride, empowerment, ownership… maybe also an element of pressure, nervousness, at times even a little isolated or overwhelmed?
What matters is how you respond to this. The founders and business owners who join Entrepreneur Boards are determined to work through this. Entrepreneur Boards provide a unique vehicle for
honest feedback
grounded insight
and the best mix of challenge and encouragement.
How it works
This is not a business networking meeting or a talking shop.
Entrepreneur Board members use their monthly board sessions for fresh thinking, inspiration, access to experience, challenge, unbiased feedback, motivation, accountability and more.
We meet online (using Zoom video conferencing) so you can dial in from where ever you are, and get down to business quickly. Each board member brings to the virtual table an issue, challenge, strategic option or funding situation they want input on and, as a facilitated group of equals, we use our combined expertise and experience to work through each other's challenges and opportunities. From new product development to marketing and building the team. From cash flow to raising external investment. No topic is off limits – and all is discussed with honesty in complete confidentiality.
What Entrepreneur Board members have in common is that they're all moving forwards. They're growing, developing, learning, all the time. There's a camaraderie and a momentum you just don't get when going it alone.
What our members say about Entrepreneur Boards
"We have made significant progress with the help of the Entrepreneur Board these last months, with some important decisions being made. Sharing problems and discussing approaches and potential solutions with the rest of the Board is an extremely productive process."
Jason Kirk, Founder & Director, Kirk & Kirk
"I've gained peer support, helpful suggestions and tips from other entrepreneur business owners in a confidential, business like and friendly forum. The Entrepreneur's Board has helped me to develop additional critical thinking when planning and executing business projects and strategies."
Sue Frost, CEO & Co-Founder, Curamicus Ltd
"I love the honesty of the Entrepreneur Board community. Things aren't always rosy – there are ups and downs in business. The Entrepreneur Board is somewhere you can express your frustration and get perspective and practical advice to move forward positively."
Ildiko Spinfisher, Retuning Your Business
"There are many propositions on the market that claim to be able to help entrepreneurs move to the next level. I've read about many, investigated some in detail and tested a few mentoring and scale-up programmes. Being a member of one of the Entrepreneur Boards is the only one that has really delivered.
Deep, focused, well-facilitated discussion exploring members most pivotal business challenges. This monthly discussion with a hand-picked small board of diverse entrepreneurs cut through to enable me to not only see the change that was needed, but to feel differently – positively – about embracing those changes.
We're in a new league thanks to Hatty's innovative thinking – driven by her hands-on experience of what really makes a difference to entrepreneurs success – enabling her to create the Entrepreneur Board proposition…That and her exceptional board facilitation skills."
Diana Parkes, Founder, The Women's Sat Nav to Success
See for yourself – for free
If you are up for trying a different perspective with your business, you are invited to experience a free taster Entrepreneur Board. During the taster you will meet Hatty Fawcett, the Entrepreneur Board facilitator and chair, connect with the other business owners attending, and see a live demonstration of an Entrepreneur Board in action!
Try Entrepreneur Board for free
Entrepreneur Boards are powered by The Boardroom UK