Crowdfunding Accelerator – making successful crowdfunding quicker and easier
Raising investment is challenging right now. In the wake of Covid-19 startup investment is 30% down by volume and 50% by value. Crowdfunding is proving more resilient and offers a beacon of light to startup founders.
You have just one chance to make a good first impression with investors so it's important to position your investment opportunity correctly. Crowdfunding Accelerator makes it easy to understand what investors want, shows you how to present your investment opportunity and supports you in targeting investors to prepare an investment campaign that has all the hallmarks of success.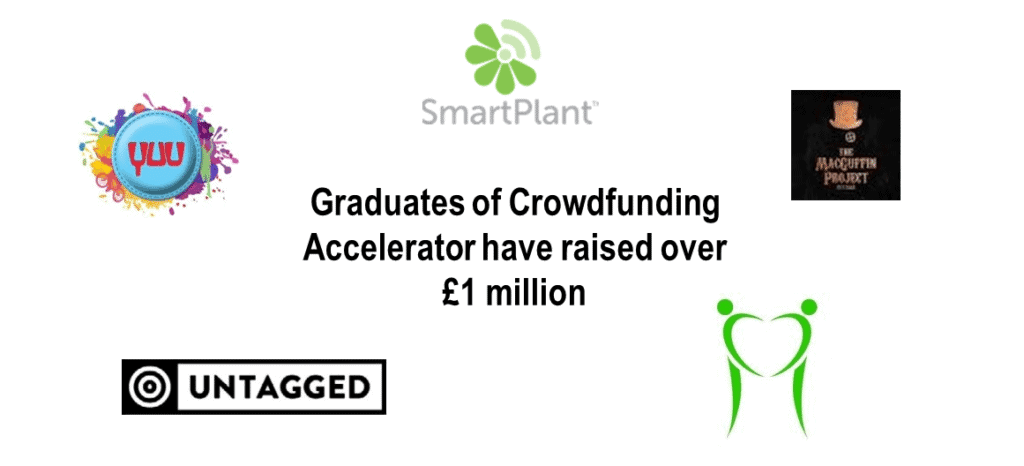 Gain Clarity on the information investors need to back your business
Connect with other startup founders on the same journey, partners who can support your investment campaign and with investors
Share ideas to test, gain feedback and improve your investment campaign
Unlock Insights that are like gold dust – saving you not just time but also money, reducing the likelihood of making costly mistakes
Build all the elements of a successful investment campaign
Hatty Fawcett, Programme Leader
Crowdfunding Accelerator is led by Hatty Fawcett, who has been raising money for businesses and projects since she was eight, has worked in three startups and who raised £250,000 for her last startup, including two crowdfunding rounds.
Through her coaching and training organisation, Focused For Business, Hatty works with startup founders to give them the clarity, connections and confidence to communicate exactly what investors want to know so they attract a number of offers and can choose the right one for their situation. Last year, Hatty raised a total of £1 million for her clients, with individuals raising between £10K and £350K.
Hatty is a Regional Manager for Angels Den, a Talent Spotter for The Startup Funding Club (SFC) and works with all the main crowdfunding platforms.
What you can expect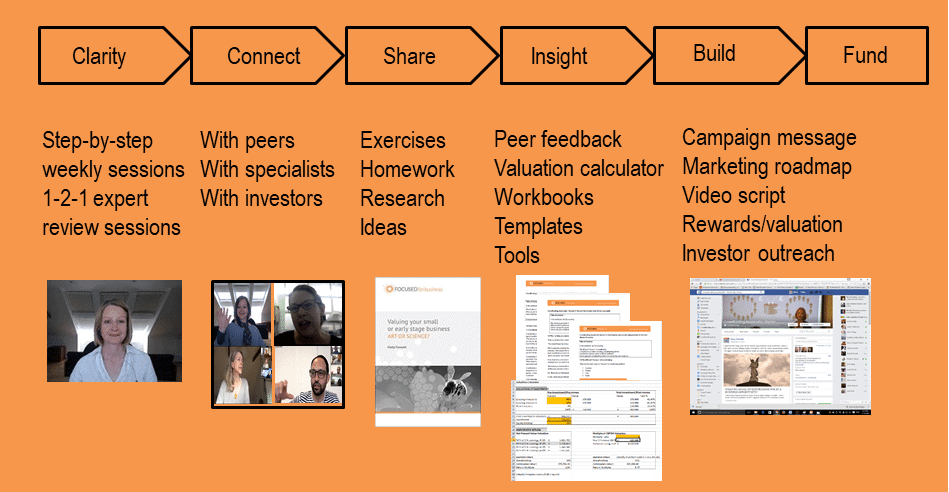 Crowdfunding Accelerator is an eight week, intensive accelerator. Each week we meet (via Zoom) for a 90 minute workshop consisting of presented content, discussion and practical exercises.
At the end of each weekly session you will be asked to complete a specific "homework" exercise. Once all homeworks are complete, you will have all the elements you need for successful crowdfunding. At the beginning of the following week's session, the homework is discussed and shared with the group to provide impartial but informed feedback from a range of people, giving you confidence that your crowdfunding campaign is credible and has impact.
Between sessions, feedback on homework and peer support is encouraged through a dedicated community group of current and past Crowdfunding Accelerator alumni.
Towards the end of Crowdfunding Accelerator you also have options to pick two 1-2-1 sessions with specialists, who review aspects of your campaign and provide detailed feedback and advice. Expert advice is available on forecasting, valuation, campaign messages and investor research and outreach.
By the end of Crowdfunding Accelerator you will have:
Developed the key messages used on your crowdfunding page and in communication with investors.
Created a marketing road map to raise awareness and drive support for your crowdfunding campaign.
Designed a suite of rewards (for reward crowdfunding) or have defined a business valuation (for equity crowdfunding).
Scripted, practised and have gained feedback on your crowdfunding video.
Identified investors and have a systematic process for winning their support.
Download Crowdfunding Accelerator full syllabus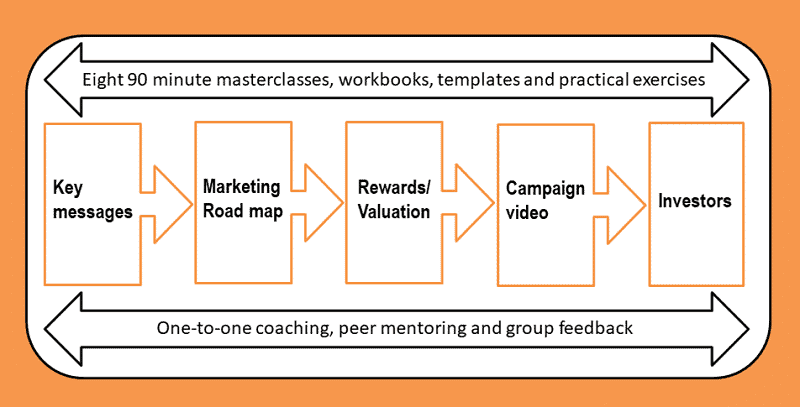 Programme dates
To discuss joining the next Crowdfunding Accelerator please email Hatty Fawcett
Crowdfunding Accelerator costs includes:
8 x 90 minute weekly sessions
All tools, templates and workbooks
2 x 1-2-1 sessions with your chosen specialists
Introductions to platforms and investors
Membership of the Crowdfunding Accelerator private Facebook group
Crowdfunding Accelerator is delivered through Zoom video conferencing. You will need a device with webcam and microphone and an internet connection to participate.
What participants say about the programme:
"Crowdfunding Accelerator was invaluable. The coursework forced my early-stage thinking, helped me refine my proposition, and develop the information and tools critical for investor discussions. Hatty has a wonderful ability to find the right balance between enthusiasm, critique and challenge." Gayle Harrison, Untagged
"The motivation I felt during my time on Crowdfunding Accelerator was powerful. I was kept accountable for progressing my crowdfunding campaign and given invaluable feedback every week." Sharon Maddy-Patel, Maddy Lou Shoes
"The webinars are great but the best bit is interacting with the other participants and hearing how they are approaching their journey to investment." David Toscano, Cin Cin Canteen and Bar
"I've found the feedback on the homework assignments most helpful. It feels like personal tuition." Sue Frost, Curamicus
"I loved the practical, stepping-stones approach to the content and the way it is orientated to action. The materials are really good too." Glyn Carter, Stories into Light
"I found this an informative and inspiring programme. I was feeling a bit half-hearted about doing another crowdfunding campaign but now feel motivated, inspired and yes, even excited! Hatty is a powerful facilitator and I feel confident that I now have all the tools necessary for a successful crowdfunding campaign" Tilly Louise James, Buttafly
To reserve your place
To join the next cohort of Crowdfunding Accelerator email Hatty Fawcett