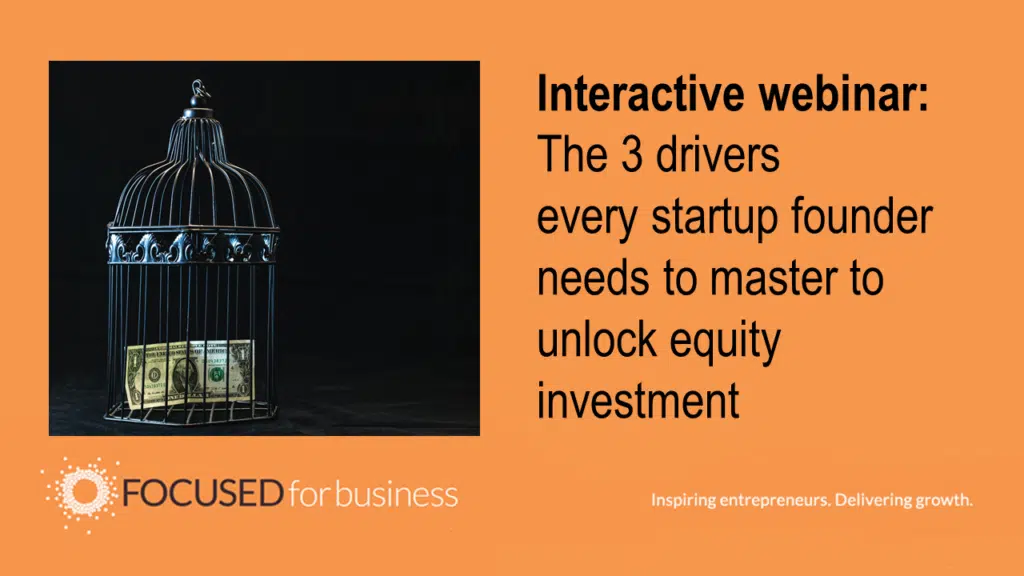 Raising equity investment can seem like a game of smoke and mirrors. It isn't clear exactly what information investors need in order to make a decision to invest. There is so much you could say but it is cutting to the salient points that get investors "on the hook".
This interactive webinar will give you clarity on the three drivers that unlock equity investment and how you demonstrate your mastery of these to get investors "on the hook".
Discover how traction speaks louder than words
What the "right" level of investment to ask for is – and why that will help you sleep easier at night
When to discuss valuation with investors – and how to arrive at a credible valuation
In addition to the presented content there will be time for your specific questions and to hear options for making it quicker and easier to raise investment.
We meet via Zoom – with cameras and microphones on. This is about you getting the answers you need so be sure to bring your questions! A Zoom login will be provided after you register and in a reminder email before the event. Places are limited to ensure a good interactive experience. Please book early to avoid disappointment and, if you can't attend at the last minute, please let us know so that your place can be offered to someone else.
Facilitated by Hatty Fawcett
Hatty Fawcett, founder of Focused for Business, has been raising money for businesses and projects since she was eight. She has worked in three startups and raised £250,000 for her own startup (a marketplace).In addition to raising investment herself, Hatty managed some of the investments Kelly Hoppen made when Kelly was a "Dragon" on the TV show "Dragons Den", making business angel investments.This gives Hatty a unique perspective on raising investment, with practical experience of having raised investment herself as a founder, but also understanding what angel investors look for when they back a business.
In the last 12 months, Hatty has raised a total of £1 million for her clients, with individuals raising between £10K and £350K.
Hatty is a Regional Manager for Angels Den, a Talent Spotter for The Startup Funding Club (SFC) and works with all the main crowdfunding platforms. She is committed to giving founders the clarity, connections and confidence to attract a range of investment offers so that they choose the right offer for their situation.
What people say about Hatty
"Hatty's webinars are always very informative, giving me a much clearer understanding of funding options and which might be most suitable for my business."
"Hatty is a fountain of wisdom when it comes to raising investment."
"Hatty is a great teacher! The rich content kept me interested and helped me understand what is needed for different types of funding."
"It was useful to interact with the others and it's reassuring to hear your stories of fundraising."
"Your tone and enthusiasm are very motivating. You are a great person to work with because of your know-how."