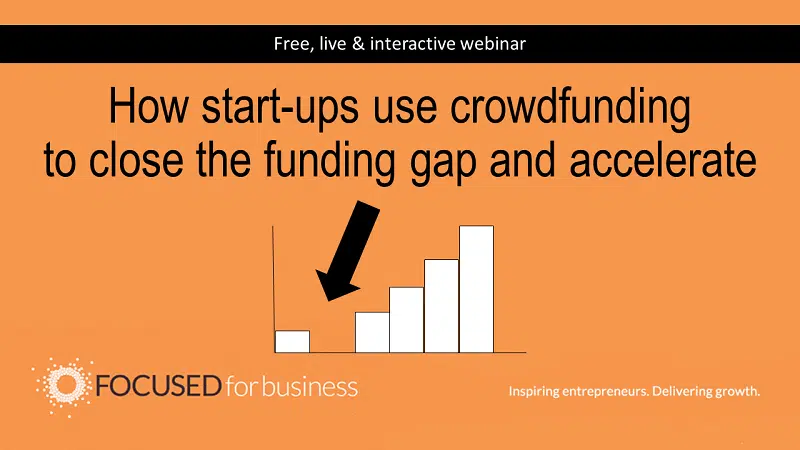 Faced with a challenging funding environment, and having exhausted the government support packages, startups are successfully using crowdfunding to close the funding gap and accelerate their growth. If you are considering crowdfunding as a way of raising investment this live and interactive webinar explains what you will need to succeed.
You will discover:
How to choose a crowdfunding platform to attract the best investors for your startup
What to put in your pitch to get investors "on the hook" (Tip: There are 7 essentials!)
Where to find your first investors to secure crowdfunding success
In addition to the presented content there will be time for questions – so come ready to turn on your webcam and mic. You will also hear about resources to designed to prepare you for successful crowdfunding.
What people say about this webinar
"A very informative seminar that gave me a much clearer understanding of the different types of crowd funding available and which of these might be most suitable for my business"
"Hatty is a fountain of wisdom when it comes to crowdfunding."
"Hatty is a great teacher! The rich content of the course kept me interested and helped me understand how crowdfunding fits into various financial offerings."
"I found your webinar to be extremely helpful and would rate it 10/10"
"It was useful to interact with the others and it's reassuring to hear your stories of fundraising."
"I found the webinar useful and, as always, your tone and enthusiasm are very motivating. You would be a great person to work with because of your know-how."
About Hatty
The webinar is led by Hatty Fawcett of Focused For Business. Hatty has worked in three startups, and raised two rounds of investment for her last startup, including a crowdfunding round. Last year, Hatty raised over £1 million for her clients, with individuals raising between £10K and £350K. She works with startup founders to give them the clarity, connections and confidence to communicate exactly what investors want to know so they attract a number of offers and can choose the right one for their situation. Hatty is a Regional Manager for Angels Den, a Talent Spotter for The Startup Funding Club (SFC) and works with all the main crowdfunding platforms.
Book your place now
Click on the "Select a date" link below to see all available dates and times for this webinar and to reserve your free place:
(If your browser does not display the booking form, click here to be re-directed to an Eventbrite booking form).