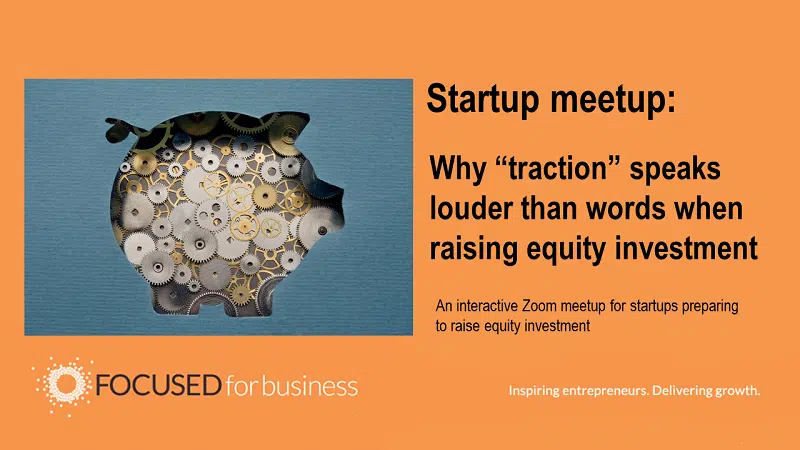 Investors look for "traction" when deciding whether or not to back a business – but what does that actually mean?
This interactive meetup brings together startup founders for a practical discussion on what investors mean by traction, and to share experiences of how best to evidence this to get investors "on the hook". Together we'll:
Uncover why "traction" speaks louder than words for investors
Discover the three elements which deliver "traction"
Explore ways in which you can evidence "traction" to quickly hook investors
This facilitated meetup will start with presented content to spark a conversation but will include time for you to ask specific questions and to share your experiences too. You will also have the opportunity to hear about resources that make it quicker and easier to raise investment.
We meet via Zoom – with cameras and microphones on – to share as a community. This is about you getting the answers you need – and offering support to those on a similar journey to you. Bring your questions, be generous in sharing your experience.
A Zoom login will be provided after you register and in a reminder email before the event. Places are limited to ensure a good interactive experience. Please book early to avoid disappointment and, if you can't attend at the last minute, please let us know so that your place can be offered to someone else.
Reserve your free place here
Use the scroll bar to see all available dates. If booking panel doesn't load you can reserve a place via Eventbrite
Facilitated by Hatty Fawcett
Hatty Fawcett, founder of Focused for Business, has been raising money for businesses and projects since she was eight. She has worked in three startups and raised £250,000 for her previous business (a marketplace). In addition to raising investment herself, Hatty managed some of the investments Kelly Hoppen made when Kelly was a "Dragon" on the TV show "Dragons Den", making business angel investments. This gives Hatty a unique perspective on raising investment, with practical experience of having raised investment herself as a founder, but also understanding what angel investors look for when they back a business.
Hatty is on a mission to make it quicker and easier for founders to raise early-stage investment. Her vision is to see a level playing field when it comes to raising investment. In the last 12 months, Hatty has raised over £1 million for her clients, with individuals raising between £10K and £350K.
Hatty is a Regional Manager for Angels Den, a Talent Spotter for The Startup Funding Club (SFC) and works with all the main crowdfunding platforms. She is committed to giving founders the clarity, connections and confidence to attract a range of investment offers so that they choose the right offer for their situation.
What people say about Hatty
"Hatty's meetup was like a one-stop shop for all the information I needed . Succinct, clear and full of ideas."
"The Meetup was a very beneficial experience. It made me rethink our whole launch and fundraising strategy."
"By the end of the Meetup everyone was contributing and helping each other. It was energising and motivating."
"Hatty brings clarity and focus to the complexities surrounding raising investment."
"It was useful to interact with the others and it's reassuring to hear others' stories of fundraising."
"Hatty is a fountain of wisdom when it comes to raising investment."
"Hatty's tone and enthusiasm are very motivating."
If the Eventbrite booking checkout does not appear, you can book your ticket direct on Eventbrite