**** Free, live and interactive webinar "How to succeed at crowdfunding" packed full of practical crowdfunding advice, insider tips and resources that support your crowdfunding campaign. RESERVE YOUR FREE PLACE ****
Raising investment (be that crowdfunding or angel investment) is hard work. I liken it to running a marathon. Much of the hard work is actually done before the race day itself. So it is with crowdfunding. Before you put your crowdfunding pitch live, you need to do a lot of work behind the scenes to ensure success.
I was recently interviewed by "Let's Talk Business" and shared with them my six strategies for crowdfunding success. You can listen to the interview (below) which is in two parts.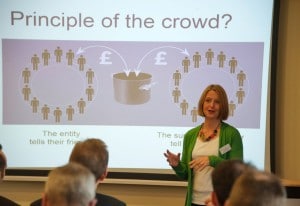 Part one: The first three strategies for crowdfunding success
Tell a good story
Demonstrate traction
Surround yourself with good people
Part two: The remaining three stratagies – and one extra piece of advice
Forecast the future
Invest in your video
Prime the pump
You only have one chance to make a first impression – make it a good one by getting professional help
**** Free, live and interactive webinar "How to succeed at crowdfunding" packed full of practical crowdfunding advice, insider tips and resources that support your crowdfunding campaign. RESERVE YOUR FREE PLACE ****