Crowdfunding Accelerator: An online programme of workshops and mentoring
How to succeed at Crowdfunding: Free online, interactive seminar – Book your place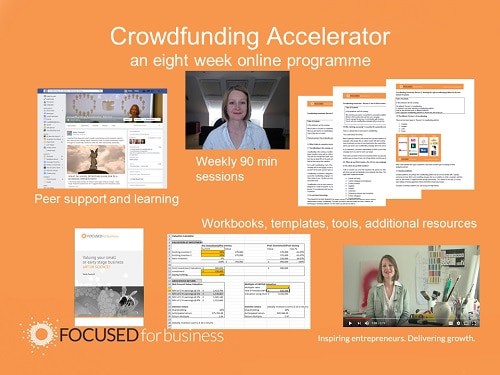 The harsh truth is that 50% of crowdfunding pitches fail to reach their funding target. Crowdfunding Accelerator is an eight week ONLINE programme designed to make it quicker and easier for you to run a successful crowdfunding campaign. The programme:
takes a step-by-step approach, focusing your effort on the things that really matter
provides specifically prepared content focused on each aspect of your crowdfunding campaign
supports you with programme workbooks, handy-to-use templates, additional resources and proven tips
encourages peer learning, support and motivation through a closed Facebook Group
facilitates the actions needed to prepare your campaign through weekly "homework"
culminates with "Pitch School" where each participant pitches their campaign and receives tailored feedback
significantly improves your chances of crowdfunding success
What participants say about Crowdfunding Accelerator
"Hatty is a great teacher! The rich content of the course kept me interested and helped me understand how crowdfunding fits into various financial offerings. This course has given me confidence on how and when to organise a campaign." Sue Frost, Co-founder Curamicus
"Hatty made the daunting process of accelerating my business a simple, outlined and structured process. As a company we have gained direction, professionalism and valuable information through her insights". Arun Thangavel, Co-Founder, Hollabox
"The Crowdfunding Accelerator was an excellent way to explore the concept of crowdfunding in a real hands-on and practical way which resulted in having everything I needed to proceed." Claire Timbrell, Co-founder The MacGuffin Project

"You have really helped me address my ideas and improve my plans. The support has met my expectations which were high". Adalberto Battaglia, Founder Quinto Quatro
"I've found your feedback on the homework assignments most helpful. It feels like personal tuition." Sue Frost, Co-founder Curamicus
"The homework is by far the best bit! It's what made this so much more practical than just researching crowdfunding on your own, because you end up with everything you need to proceed. Even if you don't proceed, the homework definitely focuses you on what is important for your business." Claire Timbrell, Co-founder The MacGuffin Project
"Hatty was a fantastic coach helping us create a short pitch, ensuring the delivery of key investor information in a simple but effective way" Gill Hayward, Co-Founder, YUU World
Dates for the next programme
The next Crowdfunding Accelerator runs on Monday evenings from 19.00-20.30 BST on the following dates:
September – 11th, 18th, 25th
October – 2nd, 9th, 16th, 23rd, 30th
Location
This is an online programme delivered weekly in 90 minute interactive video call meetings. There is no need to travel. Simply log in from your computer (with internet access) wherever you are.
What next?
How to succeed at Crowdfunding: Free online, interactive seminar – BOOK YOUR FREE PLACE
Got questions about the programme? EMAIL HATTY
Want to join the next cohort of Crowdfunding Accelerator: SIGN UP NOW
About Hatty
Crowdfunding Accelerator is run by experienced crowdfunder Hatty Fawcett. Hatty raised £250,000 through crowdfunding and angel investment for her own business venture and for the past 5 years she has helped business owners prepare for and raise investment. She learnt the hard way what it takes to raise investment and is on a mission to make it quicker and easier for other businesses to access finance.
Hatty regularly speaks on crowdfunding and is an active blogger on the subject of raising investment.
Hatty is also a Regional Manager for Angels Den, the Business Angel Network and crowdfunding platform, is a Talent Spotter for The Start-up Funding Club and an Ambassador for Phundee. She runs free, monthly Funding Clinics giving businesses the opportunity to discuss their funding requirements in an informal clinic and to receive tailored advice.