Kellie Forbes and Gill Hayward, Co-Founders of YUU World, know what it takes to raise investment. They survived "Dragon's Den" (TV programme) receiving offers from all five dragons and going on to raise investment from Peter Jones and Deborah Meadon. Then, in 2016, they raised £210,000 from a number of business angels. In 2017, with the business doing well and a new product to launch, Kellie and Gill turned to crowdfunding to raise investment to launch the product but, more importantly, to test demand for their latest creation, YUUGo a GPS tracker backpack which provides parents with everything they need to keep their kids both entertained & safe on-the-go.
Mid-way through their crowdfunding campaign, Hatty Fawcett caught up with Kellie asking her what appealed about crowdfunding, how the campaign was progressing and what they'd learnt in the process.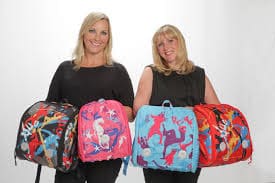 Hatty: What attracted you to crowdfunding for this investment raise?
Kellie: We were attracted to crowdfunding to launch our new product not just because of the financial support, but because we thought it would be a great way to test the desirability of our newest product. We also wanted to gain some valuable insight on how to improve our product along the way.
Hatty: What influenced your decision to do reward-based crowdfunding (rather than equity)?
Kellie: YUUGo is a tech product (it uses GPS/Wi-fi tracker to allow children to track their journeys whilst giving parents the ability to see where their kids are). We noticed that "wearable tech" performs particular well on reward-based crowdfunding platforms. It seemed a good way to reach out to new customers beyond those who already love our core product. Nothing is certain in crowdfunding – and we had some concerns – but we wanted to give it a try.
Hatty: How did you decide at what level to set your crowdfunding target?
"I would urge anyone considering crowdfunding to think very carefully about their crowdfunding target…setting this at the right level is more complex than you might think."
Kellie: I would urge anyone considering crowdfunding to think very carefully about their crowdfunding target (the amount of money you want to raise).
We reviewed a lot of crowdfunding projects before launching our own and, in many cases we saw the percentage reached outshining the actual target. When this happens "the crowd" tends to be encouraged by the initial response and join in backing the project causing an overfunding situation. This is very exciting when it happens but it can also be misleading. You have to deliver your promised rewards the minute you hit your (minimum) target, even if you are planning to go on and over fund. We pondered setting a lower target (so that we were seen to achieve our target quickly) but we were concerned that if we set our minimum target too low we would not raise sufficient funds to meet our minimum order quantity with our factory, leaving us needing to deliver rewards without the minimum order quantity economies of scale. I guess what I'm saying is that setting your crowdfunding target is more complex than you might think. You've got to think about what you need, the costs of delivering your promised rewards and recognise that there is human psychology at play too.
"It is dependent on you to get the first 40-50% (of your target) pledges in – and you need these pledged in the first few days of your campaign. I cannot stress this enough"
Hatty: Had you lined up some initial investors to support your crowdfunding pitch when it went live?
Kellie: I cannot stress enough how important it is to do some in-depth prep and ground work on lining up initial investor pledges. I'd recommend lining up initial pledges that account for 40%-50% of your target – and you need these pledged in the first few days of your campaign to get the traction your campaign will need to reach "the crowd" (people you don't know).
We've found there is a difference between American and UK consumer behaviour on crowdfunding sites. We found that our campaign received good numbers of visitors but the conversion from our Facebook advertising and our database was not what we had anticipated. People can be scared off, or simply be confused about what they are there for, if they have not made a crowdfunding pledge before. I'd recommend providing a clear, short explanation on your pitch page explaining how crowdfunding works. UK consumers, in particular, seem less familiar with crowdfunding compared to, say, the USA.
"I wish we had worked with somebody independent to our campaign and company so that we had another perspective and view."
Lastly, and I feel this sincerely, I wish we had worked with somebody independent to our campaign and company so that we had another perspective and view on how to approach our campaign. In my experience, you cannot cover enough angles when preparing for your campaign!
Hatty: Have there been any surprising outcomes from your crowdfunding campaign?
Kellie: Yes! We were not clear enough on how much the first 30% (of your target) depends on you to get the pledges in. The first two days of the campaign were exhausting, asking friends and family to pledge. If only we had understood the importance of this better, and had prepared more pledges before going live.
That said, we've had amazing comments about our product. That's been insightful. We know we have a desired product, but this has not translated into pledges. We thought that the pledges would be indicative of the product's desirability – but this has not been the case.
We are currently (at the time of writing) mid-campaign and have reached 37%. We've had some lovely PR which has been brilliant (including a spot on BBC Business Breakfast) but, without faster progress towards our target early in our campaign, the exposure Indiegogo and Crowdreach can offer is limited. It reinforces how important it is to have lined up pledges which amount to a significant chunk of your crowdfunding target before you put the campaign live.
We are disappointed but we are not giving up yet. We have some plans in play to boost our campaign. Whatever happens, our product has been very positively received so maybe we just need to launch in the old fashioned way!
You can back YUUWorld's crowdfunding campaign here
***************************
How to succeed at Crowdfunding – live, interactive webinar
Book your free place
Crowdfunding Accelerator is an eight week online programme that makes it quicker and easier to be successful at crowdfunding. Find out more